The compact point and shoot series of cameras from Nikon is launched outside the North America. The cameras are compact in imaging terms, but the array of advanced equipments has found their place in the assembly. The 20.1 million pixel sensor is loaded inside both the snappers. The devices vary in terms of zoom and focal lengths. Casual photographers would find the alleged products useful for photography during weekends and vacations while ease of data transfer makes them practical.
Must Read: Nikon Introduces One series Advanced Mirrorless Snappers at Affordable prices
The S3700 has a 25mm to 200mm telephoto wide angle lens with 35mm equivalent focal length. The 8X optical zoom can be expanded upto 16X with Dynamic Fine Zoom. The photos can be shared to any compatible device via built-in NFC and WIFI. Using these wireless technologies for data transfer has become a trend in the imaging world, but getting them employed on the job creates a bit of practice for new users starting with the compact point and shoot snappers. User can edit their images with the inbuilt application of the camera. The Glamour Retouch allows user to enhance the looks and faces in the images while the Smart Portrait mode would let them click images with various effects.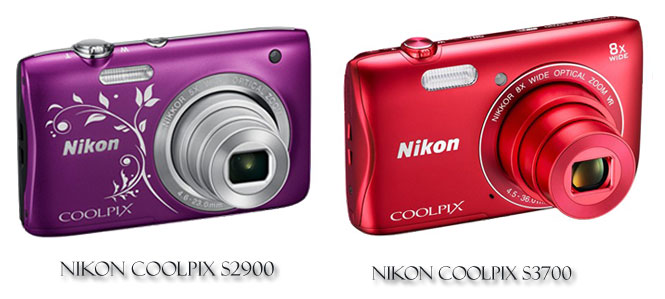 The other one in the series i.e. Nikon Coolpix S2900 also boasts 20.1 million pixels. The zoom is applicable upto 5X with its NIKKOR lens with Dynamic Fine Zoom letting it go upto 10X. This lens captures 26mm wide angle to 130mm telephoto views and it is equivalent to 35mm format. With 10X zoom, the 260mm equivalent images can be collected. The snapper is packed in a compact outfit and occupy a pinch of your pocket space. The images can be edited with the in-built application along with auto mode to select the perfect scene.