The stories of getting everything polished in gold have seen its existence in Nikon's product in association with Brikk. The Brikk is famous for the creation of extra ordinarily exclusive products. With the launch of Lux Nikon Kit, the prices have been pushed hard to reach the cloud 9 + 1 with 10 times higher price. The camera is reframed in a drastically superb manner and polishing material is 24 karate pure yellow gold. The complete packaging will receive its owner at a price of $41,395. Quite mere!!
The Nikon Lux kit is the one of its kind product which can be treated as a Bentley or Rolls-Royce of the imaging world. Though, the company is not looking for the past generations of the customer, but it is a matter of fact that purchasing this sight and light reflecting product requires a tough soul, and those souls will be limited to the first 77 units only. Brikk Company is launching this product as a limited edition and the product will also house the "Brikk" logo in gold by replacing the Nikon branding.
The packaging of this camera will consist of the Nikon Df body with the Nikkor lens specified as 14-24mm with aperture f/2.8. The body portion of the camera which was covered with a smooth texture is now plated with the precious metal while the rugged surface is kept untouched. The lens unit supplied with the camera will now wear a gold cap and gold hood. Along with these, the hard casing on offer will also gain gold plated Zero Haliburton.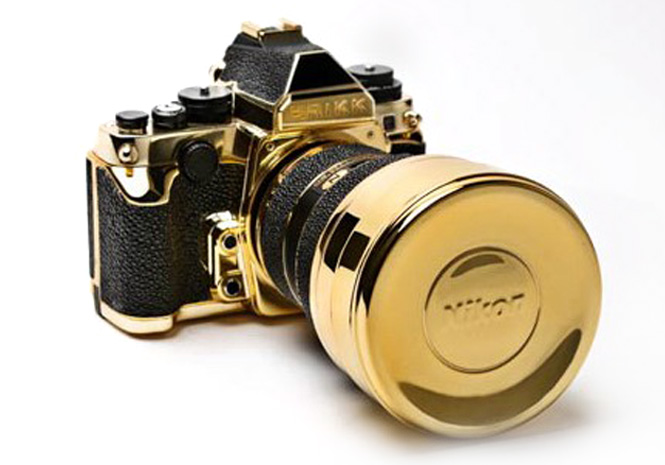 The Gold plating company was also seen with similar Lux coatings over the Apple iPhone and other smartphone products. The polish over the camera here is executed through hands and later they were submerged into the 5 layers of diverse metals and eventually the 24 karat gold is being poured in 2 layers to make it 4 to 5 microns thick.
The firm will be providing 1 year warranty over the kit. A good proportion of this income will be donated to the NGOs as a helping hand to the needful people.