Acer just can't stop itself from releasing some of the great and fabulous gadgets out of the box on IFA 2016 event. A whole range of minicomputers, monitors, laptops, and PCs was seen in the line after another for the audience to amaze at the ultimate technological advancements taking place in the gadget world.
Talking about the offerings which the Acer started rolling were from ultra thin laptops in their new Spin and Swift series in which the eyes got stuck over the thickness of Swift 7 laptop which was measured just under the centimeter i.e. 9.8mm. Along with these sleek laptops, a high-tech gaming laptop named Predator 21 X was given entry into the gaming world which has been in the limelight for its curved screen, also the world's first in this feature. After this brief intro, let's explore more about these major center of attractions:
Swift Series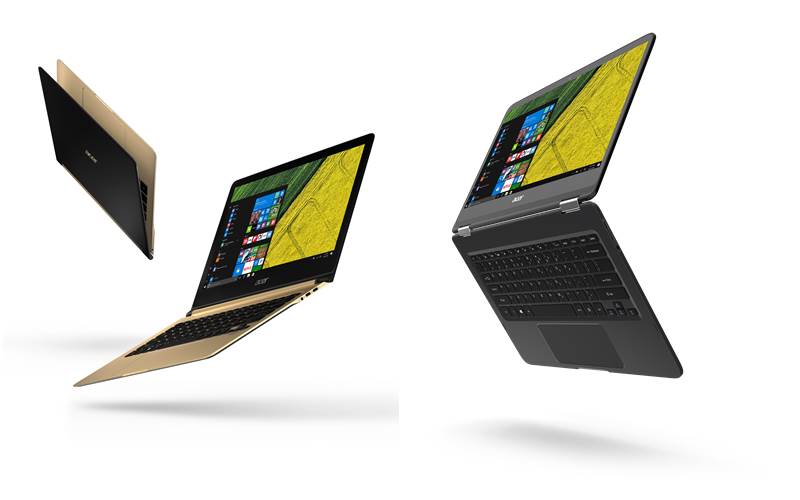 Through its Swift series, Acer has been counted as the most sleeked and thinnest laptop provider in the globe, with the Swift 7 laptop which is considered to be the thinnest of all. The measured thickness came out to be 9.98mm which is astonishingly chipped. It gave a hard setback to all those previous record breakers in the category like Apple MacBook (13mm), HP Spectre 13 (10.4mm), and Asus ZenBook 3 (11.9mm). The laptop just weighs 1.1 kg and features a 13.3-inch full-HD (1080×1920 pixels) IPS display. The Swift 7 runs with help of seventh generation Intel Core i5 processors, 8GB of RAM, 256GB SSD with two USB Type-C ports. It has the stamina to run for a time duration of 9 hours straight. The Acer Swift 7 will come with a price tag of $999 (INR 74,500) to the North America in October.
Along with the thinnest benchmark in the industry, the Swift series also came up with three other partners, Swift 5, Swift 3, and Swift 1. The Swift 5 is a 14.58mm thick laptop with a weight of 1.3kg. It offers a staggering 512GB of SSD. Now the turn is of Swift 3 which is 1.5kg heavy and 17.95mm thick. It has a sixth generation Intel Core processors and sports a 14-inch display and all the other features similar to Swift 5. At last, Swift 1 which is the heaviest among all, turned the weighing needle at 1.6kg and stretched the measuring scale up to 17.9mm. It is sporting a 12-inch full-HD (1080z1920 pixels) IPS display, and is powered by Intel Pentium or Celeron processors paired 4GB of RAM offering a storage capacity of both 64GB and 128GB as eMMC storage and has a battery capacity to run 12 hours.
Predator series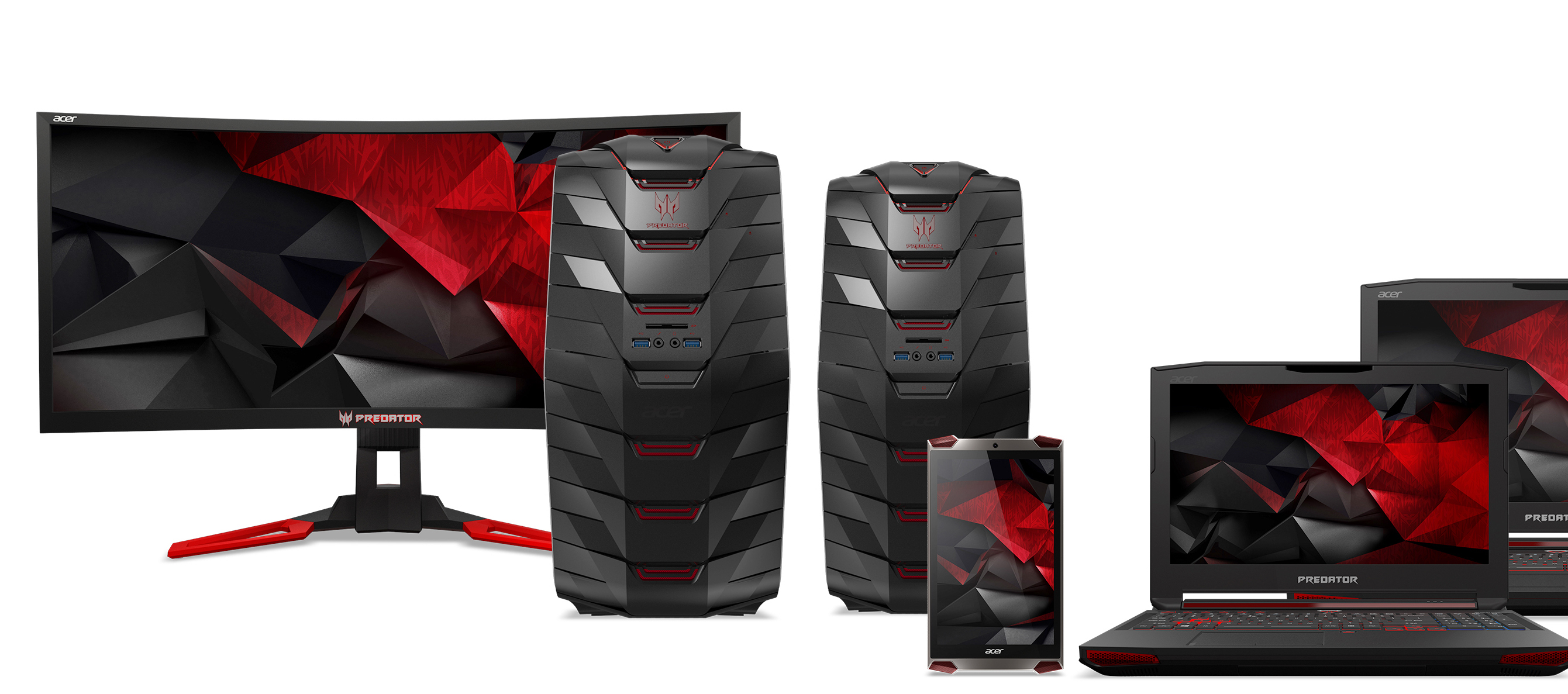 Acer also revealed one of its kind laptops which are a gaming gadget named Predator 21 X. This gaming laptop is said to be the world's first laptop to have a curved screen. Some of the thrilling specs are seventh-generation Intel Core processors paired alongside two Nvidia GeForce GTX 1080 graphics cards with SLI. It features a 21-inch curved (1080x2560 pixels) IPS display and having a full-sized mechanical keyboard with Cherry MX switches. Some outer views are that it has a weight of 8 KG and figures a total of 5 fans to keep itself cool and calm. Expected launch comes out to be 2017 in the first quarter.
Some more add-ons are in the predator series, including 17 inch and 15-inch laptops. The laptops are VR compatible, and encompasses GPUs with Nvidia Pascal architecture, with up to NVIDIA GeForce GTX 1070 graphics. The price tag of these laptops are USD 1,699 (INR 1,14,000) and will be available in North America.
Apart from laptops, Acer also unveiled some of the pro gaming monitors, in which one of them is curved. The monitors have inbuilt Tobii eye-tracking technology. And the amazing one is 27-inch curved screen full-HD display with Nvidia G-Sync. Some more in the list are 24.5-inch Predator XB251HQT and the 27-inch Predator XB271HUT monitors in which XB271HUT is priced at EUR 899 (INR 67,100), and will be made available in December. All these special gaming monitors will be available in Europe, Middle East, and Africa.
Acer Chromebook R13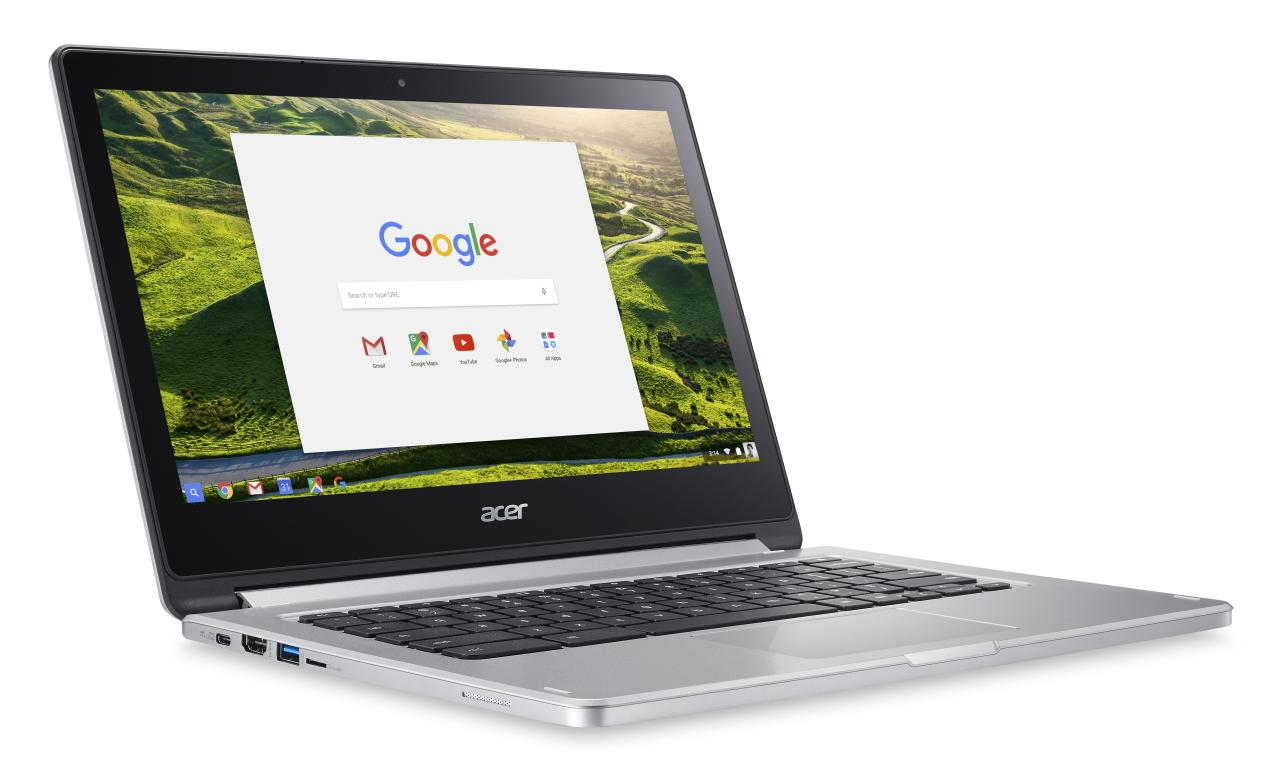 A Chromebook has also got its way at the IFA event by Acer. This Chromebook has to offer a 13-inch full-HD (1080×1920 pixels) IPS touchscreen display and is powered by a 64-bit MediaTek MT8173C processor paired with 4GB of RAM. The Acer Chromebook R13 has a 16GB, 32GB, or 64GB of eMMC storage. The price tag will be USD 399 (INR. 26,700) and EUR 399 respectively (INR 29,700).
Spin Series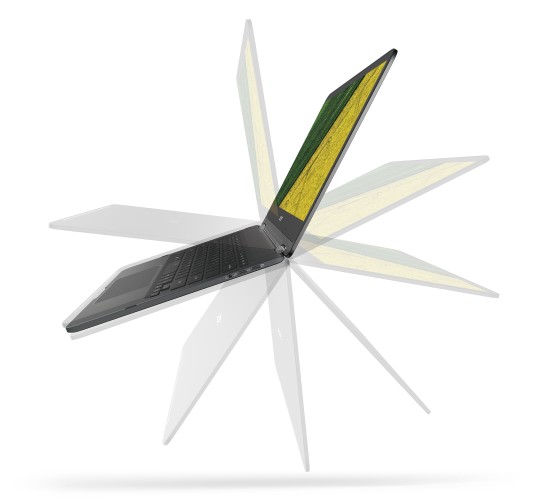 A new Spin series also saw a flash at the IFA event. This is a range of convertible 2-in-1 laptops. The flagship in this series is Acer Spin 7 which has a 14-inch full-HD (1080×1920 pixels) IPS display. It is 10.98mm thin and is powered by seventh generation Intel Core i7-7Y75 processor with 8GB of RAM. It offers 256GB of SSD, 8 hours of battery life, and comes with two USB Type-C ports. The Acer Spin 7 will be on sale in North America this October with the price tag of USD 1,199 (INR 80,200).
In the second round, Acer Spin 5 comes with an extra storage capacity but a lower processing power. It is powered by a 6th generation Intel Core processors along with 16GB of DDR4 RAM. It runs 10 hours of battery life, and measures 0.78-inches thin. The Acer Spin 3 sports a 15.6-inch touchscreen IPS display powered by 6th generation Intel Core processors paired with 12GB of DDR4 RAM. It offers 1TB of extra storage options and 256GB of SSD and a 9 hours battery stamina.
Lastly, Acer 1 comes to the description, it has an 11.6-inch full-HD (1080×1920 pixels) IPS touchscreen display which is powered by Intel Celeron or Pentium processors paired with 8GB of RAM.
Revo Base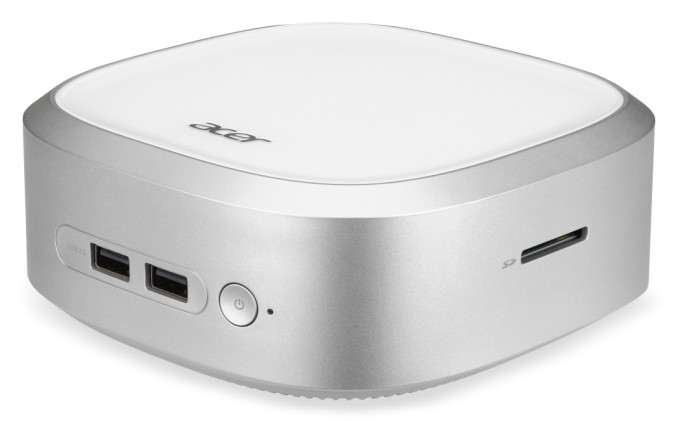 The Acer has been expanding its Revo line by the Revo Base which measures about 139 x139x53.3mm and is powered by an Intel Core i7 Skylake processor paired with 8GB of RAM, and up to 2TB of storage. It has four USB 3.1 ports, Wi-FI 802.11ac, Gigabit Ethernet, DisplayPort and HDMI, and an SD card slot for removable storage. The price tag for Revo Base is EUR 429 (INR 32,200) and will be available in Europe, the Middle East, and Africa starting from the first quarter of 2017.
Pawbo+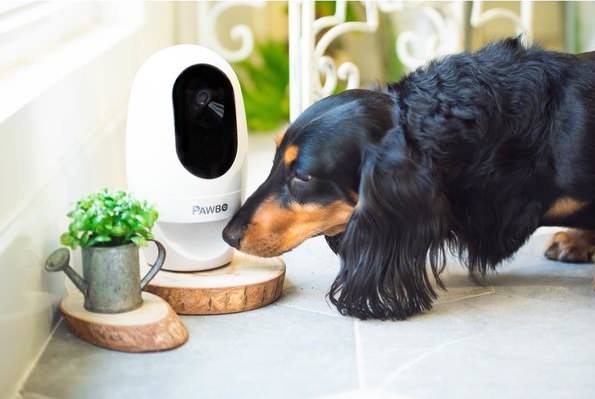 A very unique and delighting device for all those individual who would love to stay connected to their pets every while on the go. The Acer has put all attention to those pet caring people and gifted them with this new highly advanced gadget named Pawbo+ which will be a watch over the pets at home with its high sensor camera and also includes a microphone to listen those growling replies from the pet and a speaker for the conversation with all the entertainment packed inside. A separate food tray also engaged in feeding your pets anytime. The Pawbo+ will be available at a pre-order price tag of USD169 (INR 11,900) in United States, Germany, Italy, Japan, and Taiwan, and is scheduled to arrive in November 2016.
Must Visit Our Google+ Community Page For Latest And Updated Technology News.