The entire world is familiar with the Microsoft's acquisition of Nokia. As the King maker has been stopped by the Redmond guys to show its supremacy, and to give a one more stroke to it, Microsoft has discontinued the Windows RT based Nokia Lumia 2520 tablet. However, the maker has offered warm-heartedness by planning an inheritor of it with some improvements and upgradations. And, the best part is, it is speculated that it will have been entitled with the same rank legally. So, we could say it the legatee of Nokia Lumia 2520.
You might be thinking that from where I could find such stuff for its successor? Well, a mystifying Lumia tablet has been seen on GFXBench website. This seems quite good to see a two years old Lumia 2520's successor while Microsoft has snatched the serendipity of Windows RT (a Windows variant for ARM devices) by discontinuing this old tablet.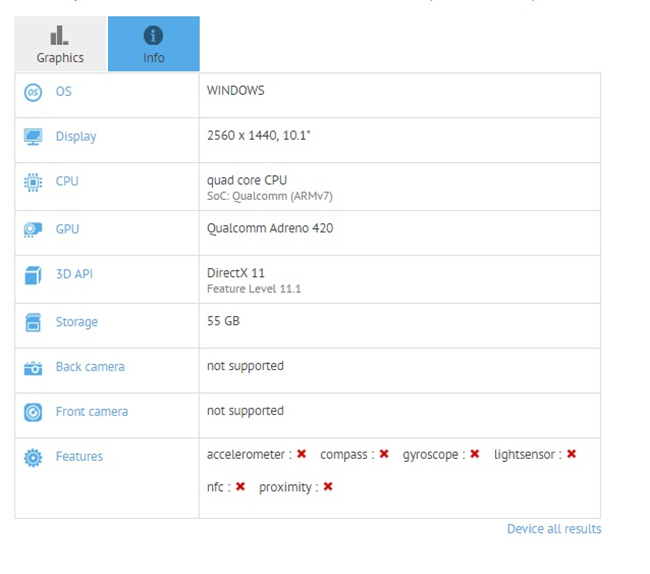 Well, Windows RT is dead; Nokia is no more an independent company. But time is not to hold the past as Microsoft is going to bring an inheritor which is rumoured to come equipped with Snapdragon 805 and 2K display. As per GFXBenchmark, Qualcomm's quad-core Snapdragon 810 may power this alleged successor and will come paired with Adreno 420GPU that will be compatible with DirectX 11. However, it offers the same 10.1-inch display, but will double-up the resolution from qHD to 2K.
It is speculated that this tablet will run on ARM based Windows 10 OS. If it does happen, then the world will be seeing the first tablet with such platform support. The benchmark has showed the 55GB storage that simple means it will come with 64GB built-in storage. As neither a name has been given to this upcoming device yet officially nor any speculation for the same. So, we can just wait for the device to come-out from rumour mill.
Source: techradar.com