Creating lots of buzz and fuzz on Internet has become fashion in tech world. Almost ever gadget comes to the rumour world first, and then makes entry in the real world. Well, this new report has been leaked to give the game away from LG's upcoming handset.
A benchmark listing has been surfaced on web to reveal something interesting on the tech side. As per the benchmark listing, a LG handset with model number LGE LG-F600L has been seen with some specification detail. Such listing has given onlookers the chance to take a glance of an unannounced handset.
The benchmark website has suggested Snapdragon 808 processor for this handset. 4GB RAM is also suggested for the same. If it does so in real, then it would be a whooping enhancement in the LG gadget which will almost thrilled the market with its competence and excellence. Currently, the same processor is powering the company's newly launched G4 flagship also. However, it has 3GB RAM which is less than this rumoured LG smartphone/ So, we can speculate that something more advanced and more powerful will make debut in future.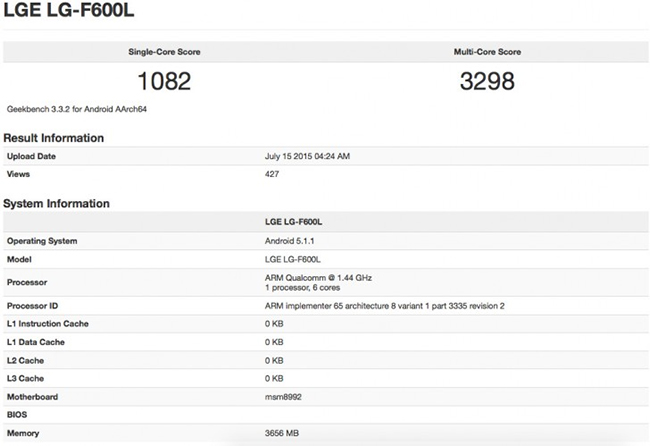 As every company has been entered in this Plus game of smartphones where it brought its flagship device first, and then made a Plus variant with few upgradation. So, it could be possible that we will see the Plus variant of LG G4 in near future.
When peruse the benchmark listing, then Android 5.1.1 Lollipop platform support is also there to make it a device with latest functionality and features. Generally, company has coded Korean specific models with F series. So, it is being speculated that Company will bring this device for Korea or it could be a Korea-specific LG G4 variant. However, we can't rely on such listing as the company officials have made no comment on such thing. So, be in touch with us to get the latest update.