According to recent reports from the Japanese blog Macotakara, claiming that iPhone 6 will have curved glass display. Blog said that according to reliable resources, Apple will bring 'rounded' edges and 'curved' glass display. The curved display has been included to indulge the rounded edges. Some critics report that the new design is somewhat inspired from Japanese company Squair Curvaceous Bumper, a Japan based aluminium bumper for the iPhone that features a rounded housing.
Report also claim that Apple can say good bye to rear glass antenna breaks found on the iPhone 5 and iPhone 5S as to assist new aluminium design. This move from the company suggests that they are bringing numerous changes in new iPhone.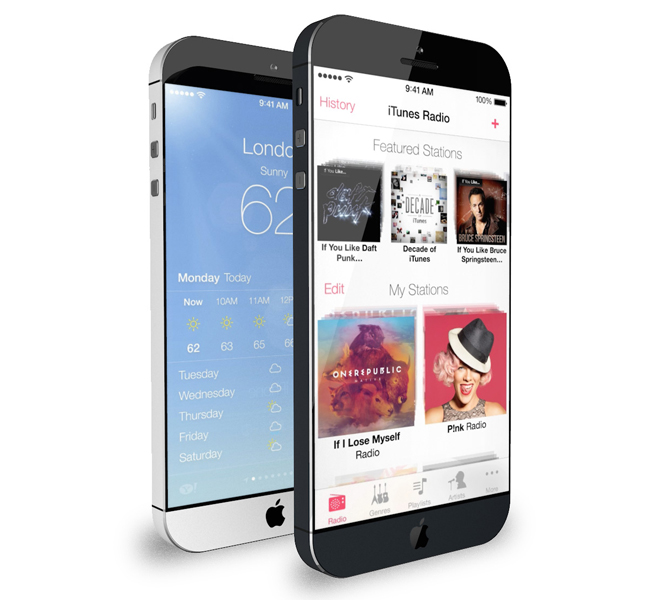 A French website Nowhereelse.fr and designer Martin Hajek have worked together to exhibit new visuals based on the recent information. The renderings shows that device have rounded corners, curved displays wrapped around corners and at the bottom of the phone is also shown with headphone jack, charger port and speaker.
Throughout last few months, various reports suggest that phone comes with bigger screen and newer specifications. Reports claimed that company is working on two iPhones and will be launched in the last quarter of 2014, there might be two different sizes for new device that are 4.7 inches and 5.5 inches. According to reports, company will ship the 4.7 inch version first and followed by 5.5 inch version, while company will solve the issues regarding its display and battery life.
Apart from larger display, both phones will include thinner and bezel free design with faster A8 processor. The device is also expected to be loaded with company's latest "iOS 8" mobile operating system which will improve efficiencies of Maps, Siri and iCloud. There are also some additional features might get added like Touch ID fingerprint sensor, heart rate monitor and an upgraded camera with Optical Image Stabilization.