The biggest event in Mobile World is taking its final shape to blossom the Barcelona soil with a new fragrance of bizarre products. Lots of startups and tech giants will get the opportunity to sparkle at Mobile World Congress 2015. Gionee is one of the names among the list of top tech brands which have confirmed their entry for the biggest tradeshow.
Well, the Chinese juggernaut has sent out the invite for its next device launch at MWC. The tech giant has also teased the device's name in the invite. Gionee Elife S7 would be the device which will be showing its supremacy in Barcelona on March 2 at 2.00 pm. In the horde of keynotes from prominent companies, the Chinese tech giant has also been reserved its name for the same and here Gionee's president William Lu will begin the launch of it's yet to announce smartphone at 2.30 pm. The Press Conference will go for around 4 hours from 2.00pm – 6.00pm.
Read Also: An Ultrslim Smartphone by Gionee, speculated for MWC 2015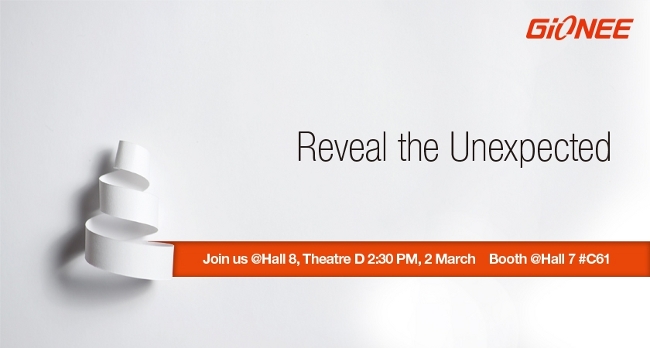 On one side, speculation are informing us about the unveiling of an ultra sleek handset while on the other side the statement from Oliver Sha connotes us that the Elife S7 wouldn't be joining the company's line of thinnest device and hence will get 7mm thick profile. Words said by Oliver Sha, Gionee Head of Global Marketing are, "The race to make the slimmest smartphone was getting out of hand. Going so slim is actually not benefiting user experience without the performance to back it up."
The thickness of the handset is measuring by its name as fundamentally the Chinese mobile maker labels its devices name with their thickness such as Elife S5.5 and Elife S5.1 which are 5.5mm and 5.1mm slim in design respectively. So, figure out the unannounced handset's thickness is quite a tough task for us. No other detail regarding specs and features has been found for this smartphone yet and has not even provided by the company itself. So, we can simply wait for the MWC 2015 to begin which will unwrap all the secrets for us later on March 2, 2015.
Read Also: Expectations from MWC 2015