The most winsome HTC Desire Eye' price has finally been revealed for Indian market. A Mumbai based retailer claimed about smartphones availability in retail stores at the price of Rs. 35,990. However, the Company itself has not made any official announcement regarding the price of this beautiful smartphone.
The handset was first unveiled in October for country and during that time, no pricing detail was announced by the Taiwanese manufacturer. Company had also claimed about its official availability for November which didn't happen yet. Since then, Indian people are keenly waiting for the Desire Eye to hold in their hands. On the other side, the official India website is showing the smartphone with "Coming Soon" tag.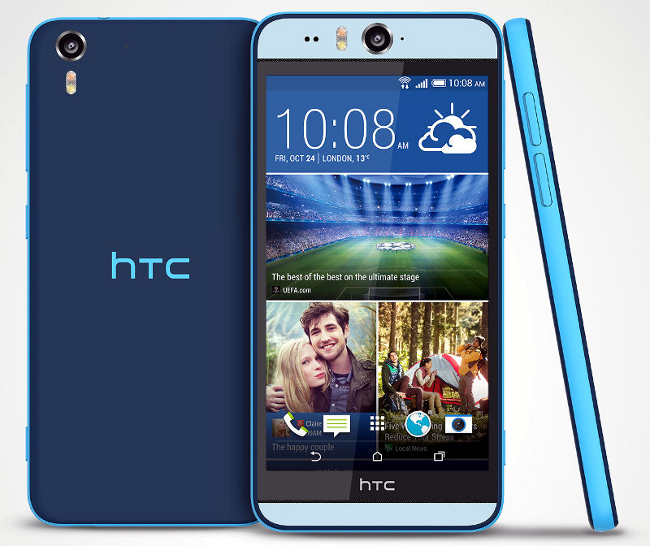 The selfie centric HTC Desire Eye behaves same with its front shooter and rear shooter as both snappers are embedded with the same 13MP sensor and both have dual-LED flash to make pictures outstanding. Both have the capability to shoot 1080p videos at 30fps. A 28mm lens and f/2.0 aperture give the rear camera spectacular effect while a 20mm lens and f/2.2 aperture make the front shooter an influential one with astonishing appeal.
Read Also: HTC Desire Eye and One M8, juxtaposition of both' Capability
Few camera features like Split Capture, Crop-Me-In are also there to make pictures more appealing and stunning. IPX7 certification is also there to resist the phone from ducking into water. Other specifications of HTC Desire Eye include a 5.2-inch display, 2GB of RAM, Qualcomm Snapdragon 801 processor, 2400mAh Li-Po battery, 16GB internal storage, 128GB expandable storage and many others. Check the complete list of specification to know this selfie smartphone closely.