The leading homegrown mobile maker, Micromax has already been formed its new subsidiary, named Yu Televentures. One smartphone under this branding, labeled Yureka has already been set its place for Indian market that will be going to sale on January 13. As only one day has left in the sale, the Company has finally disclosed the number of units that are making their way to lure customers. It is reported that the tech gargantuan will put 10,000 units of Yu Yureka on Amazon India to sale.
Well, India is ready to taste the new brand with new Android device, having custom ROM named CyanogenMod. For unawares, we will make you clear that only registered users can take benefit of this sale which will begin at 2pm on Tuesday, and Amazon India will support the maker in selling the smartphone. The strategy gives us the feel of apery work as we all know that the Chinese mobile maker Xiaomi uses the same strategy for its smartphones. Even the day and time are also the same as Xiaomi.
Read Also: Yu Yureka with CyanogenMod, A Detailed View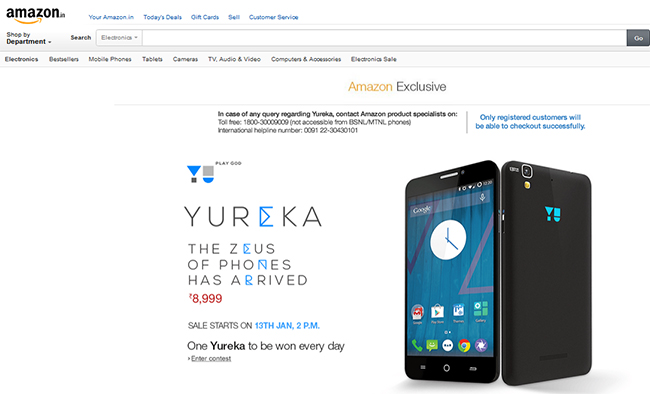 On the same day, the Chinese giant will also start its flash sale of Redmi 1S and Redmi Note 4G on Flipkart. So, the online market will see a biggest war in India. Well, the Web will be the only witness of such bigger rivalry. Micromax had stopped the registration on December 25 after seen the huge response.
The Yu Yureka is a low-cost smartphone with a price tag of Rs. 8,999. The feature-rich smartphone is loaded with all high-end specs. Click here to see all the specifications of this smartphone. Offering such specs at the affordable price tag, this new smartphone will appear in the market as biggest contender of Xiaomi Redmi Note 4G. It would be the adventurous to see two brands with their quality yet budget devices in the same market.