Have you ever imagined that the next iPhone i.e. iPhone 6 will take rounds of the biggest rumour-land with bazillions of canards. Now the immense device of Apple is revolving around the Internet with its logic board. Yes, the alleged smartphone of the renowned Cupertino based company has added one more leaked image in the bunch.
As we all know that rumours are suggesting that iPhone 6 will come in two size variants, one with 4.7 inch and another one with 5.5 inch which got the rumoured name 'iPhone Air'. So the next big hearsay which is delineating internal part of 4.7 inch iPhone 6. The logic board image has been posted by French publication. The leaked image of Logic board shows that it will come with NFC support. It is also expected that it would be come with Wi-Fi 802.11ac support. On the other side, MacRumors report is claiming about no NFC support and no 802.11ac as per the leaked image of internal part.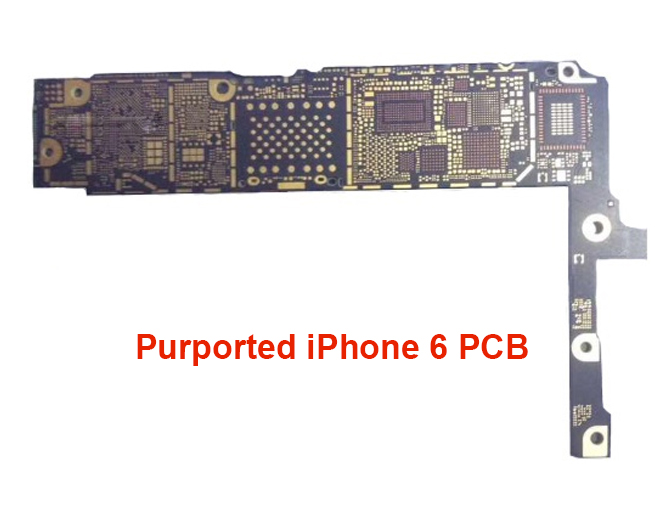 The PCB design of iPhone 6 is looking larger than iPhone 5s. So, it constantly describes about the extensibility in nature. However, the device was collecting rumours for its NFC support from a long time as all the previous devices don't come with NFC connectivity feature. The addition of NFC will motivate company to add e-Wallet features to its next iPhone device. Though, company is looking forward to release its own mobile wallet service.
The iPhone 6 was rumoured for the notifications also. As per the report, when any notification will be arrived, the logo of Apple on the back side will light up. In the line of rumours, the next is saying about purported power and volume controls' flex cables. SIM card tray will also get flex cable for this alleged device. We all know that it will be going to launch in September. However, all the details, specs, dates including the name are just words on the street.