A recent leak has just caught us unawares which has spilled the beans from the yet to announce LG G4. The latest buzz over the web is discussing about its display. It is said that the upcoming flagship of company may get 3K display. Leaving the all rumours behind for the 4K display, a new document has leaked to reveal about the screen resolution.
A tipster MyLG has leaked a screenshot of user agent profile document. This document has listed a handset with model number LG-VS999, having several specifications to understand the device's capability. Well, the website has reached to a conclusion and has offered a name for this model number. The name suggested by the tipster is the LG G4.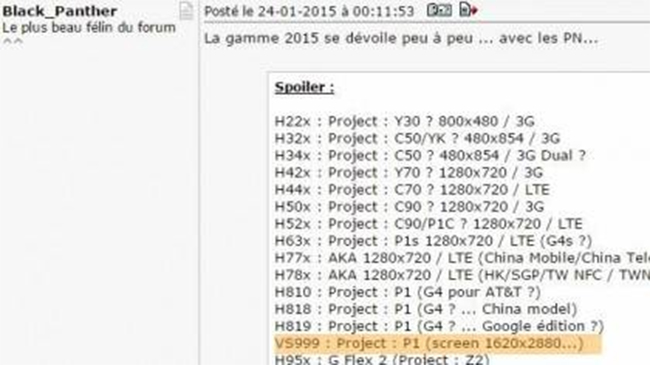 Image Source: Mylgphones.com
As per the leaked screenshot, LG-VS999 is suggested to come equipped with 1620×2880 pixels screen resolution. If it does happen, then this screen would be the staggering one in the today's era where most of smartphone devices are offering qHD or 2K screen resolution.
The alleged LG G4 had been in rumours for a long time. The list of canards is huge. So, flashing lights on each is not possible, but the latest one had suggested about its launch at MWC 2015 which will be held in Barcelona. It is also speculated that tech giant will bring a special edition for Verizon carrier with suggested 3K display.
As this is just a leak, so just try to take it lightly. But, if company has proved this leak correct, then there is hope that we can see something more adventurous and miraculous in smartphone industry with this upcoming flagship.
Source: Techradar.com