After ruling in the world of Smartphones and PCs, Lenovo has announced to launch a replica of Google glasses that is entitled as Lenovo C1. The device may be emerging as a paragon of Google Glass. Apparently the device is almost identical to the Google's pioneer edition, which has been divulged earlier this year.
It seems imperative to inscribe that wearable Smart devices are not the upgraded or extended version of Android smartphone and tablets, but it is a whole new appliance in itself, which is hotly-anticipated device in the world of applied science and nomadic computing. This gadget makes you able to perform a variety of tasks without using your hand.
Ostensibly it is a new camera-based eyewear device,which runs on brands's NBD platform to provide more internet-powered, internet-capable household and internet-driven devices. Lenovo basically screwed this prototype Smart Glass at an event to allured the hardware designers and developers, which comprises Android 4.0.4 version.
It's little astonishing about the Lenovo C1 that battery of the device is worn close to the neck, that is different from Google Glass, in which battery is around the ear. Now if we talk about the specifications and attributes then the device incorporates 5 MP built-in camera. It introduces oneself by including gesture control, a touchpad and voice recognition. It will not make you gloom on the connectivity front due to availability of WiFi and Bluetooth. It is anticipated that C1 may launch in October but the Monetary value is still unrevealed.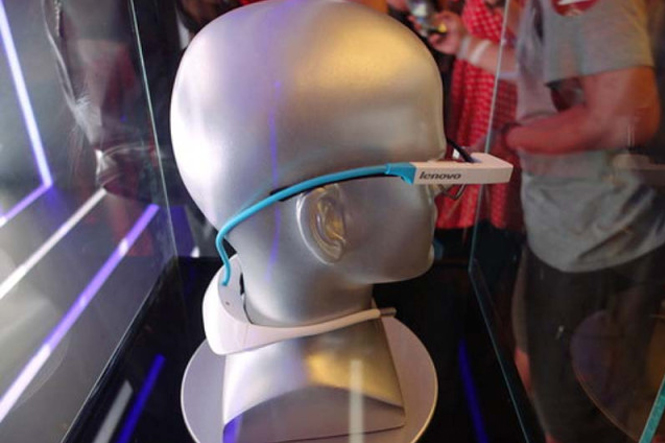 This prototype gadget is fabricated with 12GB of inbuilt storage,which synchronizes with Lenovo's cloud services. According to the reports of PC World Lenevo has also linked up with Vuzix to dispatch M100 smart glasses in China which are powered by Android 4.0 and houses with 1GB RAM . M100 devices are engineered with 1GHz OMAP4460 processors and will be available in China on 31th of July with a price tag of Rs. 17,500 approx.
After this , Samsung and Microsoft are also planning to present their Gear Glass and Reality glasses respectively. It is speculated that Samsung's Gear Glass is textured with its Tizen OS and Reality Glasses of Microsoft runs on AR technology.