In the crazy competitive world of smartphones, Germany based firm: Linshof has shown off its spectacular invention, which is baptized as i8. The aggregation of top-tier hardware along with a reasonable price tag of $380 and an elegantly-designed exterior makes the device truly peerless. Apparently, it will join the company of mid-range handhelds, where it might be a big brickbat in the way of currently available devices.
Glancing at this premium-looking handset, then it has extremely slim bezels and it has been claimed to bear a brushed aluminum body. Here, it features a 5-inch Full HD Super AMOLED display that confers a pixel resolution of 1920x1080p. In terms of performance, mobile phone is engineered with a highly-responsive octa-core processor that is clocked at 2.1GHz operating frequency.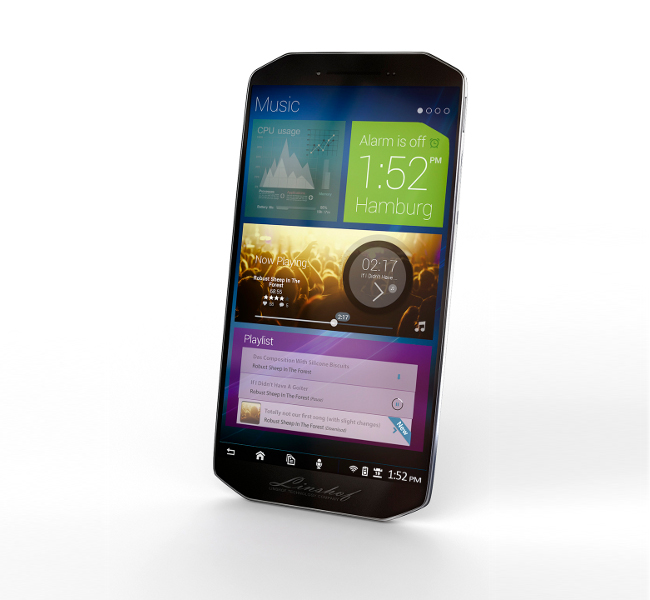 The most attractive part of the gadget is the inclusion of 3GB RAM along with 80GB of internal storage, which is quite marvelous about Linshof i8. At this place, it has been said to be fitted with dual memory modules, where 64GB space has been provided for storing the data, whereas additional 16GB storage will be dedicated to Apps.
To grab the heed of photogs, it has been arrayed with a 13-megapixel rear shooter with Sony CMOS sensor alongside an 8-megapixel of selfie snapper. However, device is powered by a 3100mAh battery, but there is no word about its lifespan. In terms of software, it is loaded with Google's latest Android 5.0 Lollipop, which has been introduced with hotly-anticipated Nexus 6 and Nexus 9.
Touching the subject of connectivity, it assimilates HDMI 1.4 with 3D support, NFC, 4G LTE, GPS, Bluetooth 4.0 and Wi-fi options. Furthermore, handset has been speculated to hit the marketplace of Germany during the first quarter of 2015.