You will often feel frustrated when huge counts of emails are irritating you sitting inside your mailbox. You find it difficult to sort out the important mails among the huge list. That is the toughest task to filter important ones. So, Microsoft thought to bring something new feature for its Office 365 business users. The new tool is made especially for all of you who find difficulties to set the list according to priority.
The Redmond gargantuan has introduced Clutter tool for Office 365 business users to prioritize emails on Outlook. The Office 365 was first introduced at Microsoft's Exchange Conference earlier and now the new tool has been added to filter every important mail from a list of emails.

It behaves in the same way as Gmail does, learn from your actions on the mailbox and disentangle the list as per your action. And finally, the ignorable mails are plucked out and saved inside another folder named Clutter. After that they won't appear in your main mailbox, but can be viewed from the designated folder anytime you want.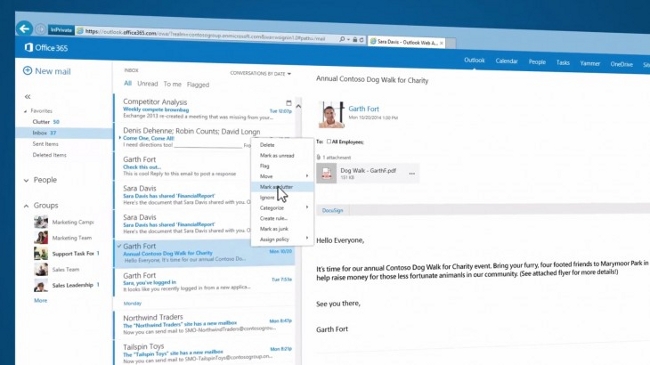 You can simply move unwanted mails into Clutter folder or train Clutter to do the same. Company has posted in a blog post, "Clutter continuously learns and will adapt to your new patterns within days when you begin working on new projects or a new role." Lucky ones to get this tool are the businesses which are showing their participation in First Release program. However there is no information regarding its roll out for other Office 365 users. Recently only the business users can take the benefit of this service.