Flipkart Big Billion Day Mega Sale has been ended now and the most popular e-commerce portal has proved itself as a FakeKart. The excitement and eagerness, people were feeling when Sale was going to begin, quickly reached to its verge after its "Server Error" and "Page Not Found" Error.
What kind of marketing strategy, the Flipkart guys had planned can easily be seen after experiencing the fraud and fake. Though, the sale had begun with lots of promises to offer heavy discounts on every kind of products, but soon reached to its terrifying end. Even, I was also feeling like something tickling inside my stomach to grab one of my favorites as soon as possible. But, what I got when opened the Flipkart.com at 8.30AM (just 30 min after the sale was begun). They are offering products at very big discount, but several products were showing the "Out of Stock" tag.
Well, this was not the end; one of my friends Shailesh Verma ordered Moto E which was listed at very staggering price tag of Rs. 1500 only. My friend made a very quick decision and ordered the handset to gift his mother. Confirmation mail was received in his mailbox. But, after few hours when he logged into his account, he saw a mail was dropped by Flipkart.com, informing about order cancelation. Here, I'm enclosing some screenshots to show the Flipkart's game of Big Billion Day Mega Sale.
Confirmation Mail by Flipkart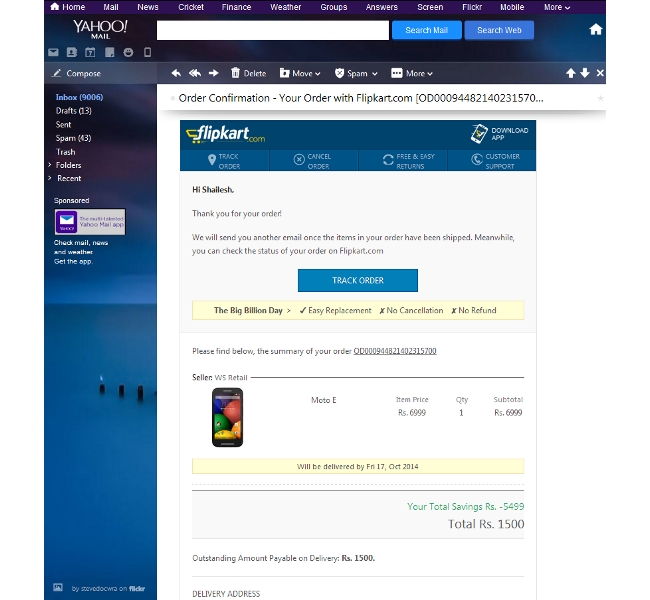 Cancellation Mail by Flipkart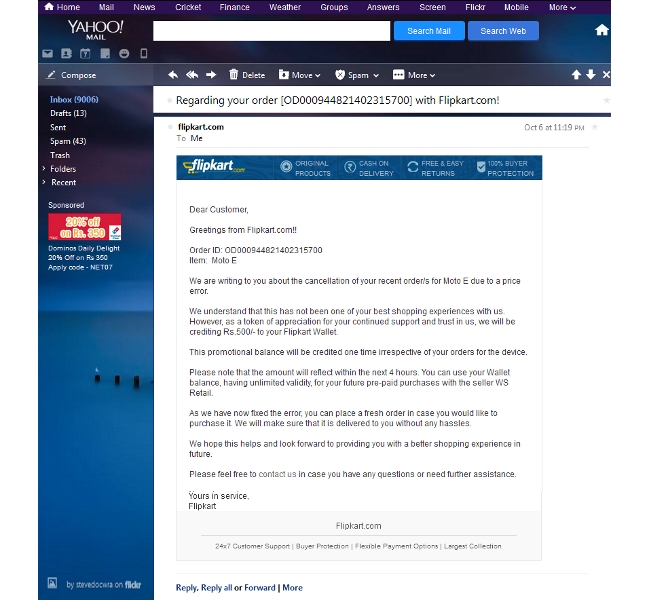 My angered friend went to Compose section of mailbox, and wrote about the fraud he faced by the India's leading online store and sent it to several prestigious persons and distinguished news media. He wrote in the mail, "I had ordered Moto E, Order Id is OD000944821402315700 which was confirmed first and then after few hours it was automatically cancelled. I had a word with a Flipkart executive and he said, "Aapka order cancel ho gaya hein. Seller has cancelled. Mein isme kuch nahee kar sakta." Agar aap ko naya order place kar na hai to Main kar sakta hu per wo price nahi mil sakta hai."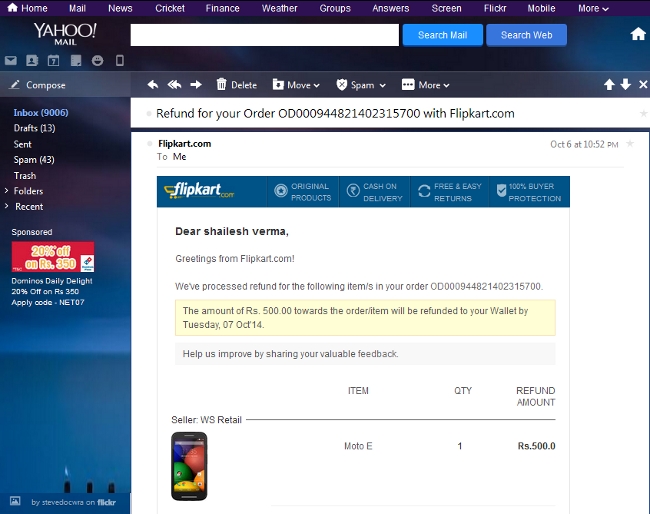 Flipkart also announced that the sale will be alive from 8:00 AM of Oct 6th to 7:59 AM of Oct 7th. But surprisingly, the Company switched off the sale early, before the mentioned tenure. The website started showing a big banner with "Thank You for Big Billion Day Sale" along with the Hourly Lucky draw winners.