At the Build Developer Conference in San Francisco held on the 29th of April, Microsoft demonstrated a plenty of astonishing aspects of hotly-anticipated OS: Windows 10. Well, we have already discussed about the several features of this firmware such as addition of Aero Glass, improved Cortana and Continuum, which have been revealed during its Insider Preview. And now, it's time to take a look on one of the most surprising announcement of event is arrival of Android and iOS apps at Windows Store.
Notably, executive VP of operating systems at Microsoft: Terry Myerson has unveiled about company's plan to make its Windows Store more affluent by filling out new applications in platform. To reach at this goal, corporation has adopted a new solution, wherein they will allow developers to bring their existing code to Windows 10, so that there is no need to rebuild codes fully for Windows.
According to The Verge, "iOS and Android developers will be able to port their apps and games directly to Windows universal apps and Redmond based tech giant is enabling this with two new software development kits. On the Android side, Microsoft is permitting developers to use Java and C++ code on Windows 10, whereas iOS developers will be able to take advantage of their existing Objective C code."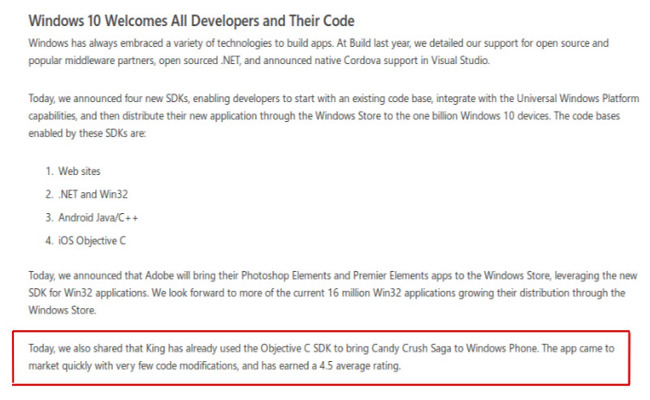 The report is suggesting that Terry Myerson has stated in an interview that "company wants to capacitates the developers to leverage their current code and current skills to start building those Windows applications in the Store and to be able to extend those applications." Additionally, they will be able to take the advantage of alluring attributes of Windows like Cortana, Xbox Live, Holograms, Live Tiles and more. Notably, tech giant has also proclaimed its distinctive: Holo Lens at Build 2015 conference. Click Here to know more about this holographic thing.
News Source: The Verge