Microsoft, the well-known provider of software products has been appearing in headlines since a long time due to its upcoming firmware: Windows 10 and its avant-garde inventions. And this time, Redmond based corporation has managed to come in limelight by making its Office Apps: Word, Excel and PowerPoint available for Android platform.
To recall, tech giant had already rolled out applications for Android based tablets and its phone preview had been kicked off back in May for Android community testers, whereby developers received a bevy of feedbacks and improved the apps accordingly. For instance, they simplified procedures to connect to other popular third-party storage offerings like Google Drive and Box. The navigation commands within apps have become more seamless via many usability adjustments, says Microsoft.
These intuitive touch-first apps have been said to offer unequaled file compatibility and layout fidelity for best productivity experience. Here, users can easily access all the documents, make quick edits with just touch of fingers as well as they can flawlessly share data with cloud-connected dedicated applications for Excel, Word and PowerPoint.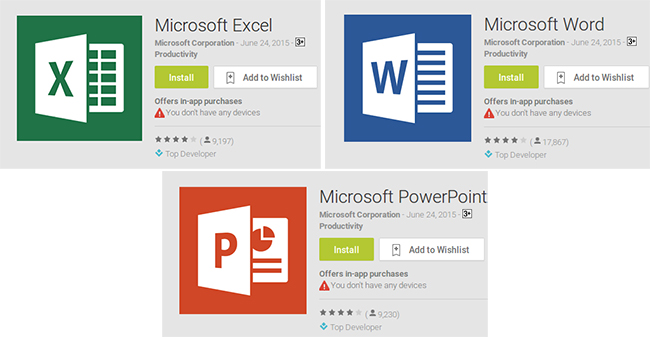 Apparently, interested folks can download the applications from Google Play and they need to Sign in with a free Microsoft account to create or edit docs. As per listing, software is compatible with Android KitKat (4.4.X) or above versions ( don't support Android M as yet). 1GB RAM or above is also an essential thing, and a qualifying Office 365 subscription is required to unlock the full Office experience.
Read Also: Exciting Aspects of Office 2016