Pune based start-up company NavStik Autonomous Systems will be developing its Flyt platform, which bundles with an operating system and the electronics for commercial drone makers. This Flyt platform, which constitutes FlyOS and FlytPOD, was showcased a couple of weeks earlier in Bengaluru at the Nasscom Product Conclave. Most probably, it will be launched in December 2015.

Nitin Gupta, the CEO of Navstik Labs revealed that, "We are planning to do a beta release where we will work with select customers who are already using our first generation platform. We'll conduct a lot of experiments with these customers and take it to a public release," he said, adding that his team had been working on the platform actively for the last ten months.

NavStik Autonomous Systems do not build or operate drones. They usually provide the operating system and electronics for the platform, and helps other drone makers to work on their platforms, Gupta said.

The startup company envisions a future, where all drones will be running on their operating system FlytOS, which is much similar like an Android in smartphones.

Gupta also told that, "Developers don't have to worry about the internal details, how it will fly, or how it will avoid collisions, or send data to the cloud. All those things are built into the software stack, and they just have to write their applications on top of it."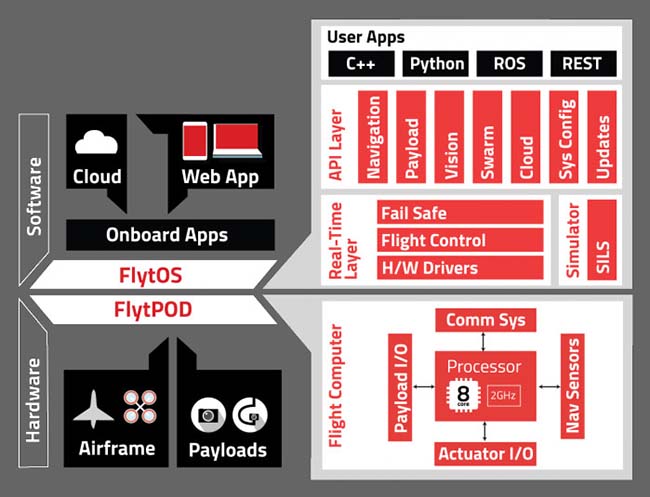 This time, the company is launching the second generation platform. They are calling platform as the Internet of drones, offers a lot of more capabilities to drone makers. "Much like IoT (Internet of Things) devices, we're putting drones in the same space, where you will be able to talk to your drones, get data from them, control them over the internet," Gupta said. "There could be multiple systems doing the job for you, and you can control the entire swarm through your mobile phone or tablet," he said.

As compared the FlytPOD system with commercially available DJI Phantom, FlytPOD platform has a long range telemetry system while DJI Phantom can be used for individual or hobby based. The FlytPOD is more suited for business applications and can be used for larger drones.

"FlytPOD has an octa-core 2GHz processor, which is quite good for onboard image processing tasks. We are agnostic to the kind of aeroplane you are using – it could be battery operated, engine operated, a fixed wing or a quad rotor, our technology is agnostic to all that. Through software, you can configure our hardware and software for any drone. The way our buildings are constructed will change in the next five years or so. Much like Helipads, there will be spots where drones can come and deliver your payloads." He said.

CEO of the company told that, the price has not been decided for flytPOD's, but it is going to be under $1000 (roughly Rs.64,000).