A Plenty of wireless charging technology has been inventing every day to fascinate consumers, but very few among them succeeded in getting attention of electronic gadgets users. A company named, Energous has taken the initiative and started working on a new concept to make wireless charging more wireless. In simple words, an array of smartphones can charge wirelessly, but all they need some other charging pads.
Energous has just thrilled the CES floor with its miraculous invention which works in the same direction, but uses a different path for charging any device. The Company has given the name WattUp to its wireless power system. This device will surprisingly charge your smartphone that will be 15 feet far from the transmitter. To make it possible, this power system uses Bluetooth and Radio Frequency.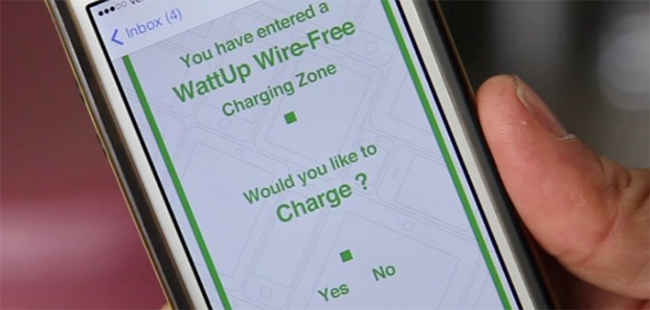 WattUp is just a kind of RF transmitter station. More closer the smartphone from transmitter, more faster it will charge. If lots of devices are taking the power from the same hub, then the devices will take more time to charge. But, that's not the issue; you can charge throughout the whole day without any worry, keeping your device under the range. The only thing, your smartphone will require to take the benefit of this new method is Bluetooth 4.0. Energous will provide its WattUp battery pack for consumers by end of the 2015. Here is a demo to better understand the concept and functionality.
WattUp technology uses RF signals and creates wireless power signal for Bluetooth connected devices. Then, this WattUp signal will convert into DC power with the help of receiver chip to charge the device. This new system will also be secure with protected mode. On the pricing side, it is said that Company will make it a cheap enough. The Company could give this hub a price tag of around $300 and will also come in several shapes and sizes.