The surprising revelation by Royal Enfield to launch an online sale of 15 limited edition of Stealth Black Classic 500 motorcycles is captivating for buyers holding to buy this bike. With the price tag of Rs. 1.90 lakh, the bikes participated in the 'National Security Guards' Motorcycle Expedition 'Fight Against Terror' ride held in September 2017. The campaign named 'Tribute to the Bravehearts' will include the motorcycles to go on sale online which is decided to be held on 13 December 2017 on at www.royalenfield.com/bravehearts.
From today itself, the crazier fans of the bike can register with the motive to buy this model. To make the difference from classic 500 bikes available on sale, the bike is embellished with the NSG insignia. The benefits from the sale of these 15 motorcycles will be added to the not-for-profit initiative named Prerna for differently abled children, as company mentioned.
The Classic 500 Stealth Black bike was a participant of NSG's 40-day campaign, destined at dispersing awareness about combating terrorism and contributing to the nation's welfare services. During the campaign, the bike completed more than 8000 km in India. The campaign of NSG motorcycle expedition is also aimed to remember completion of the NSG's 33 years of service to the nation.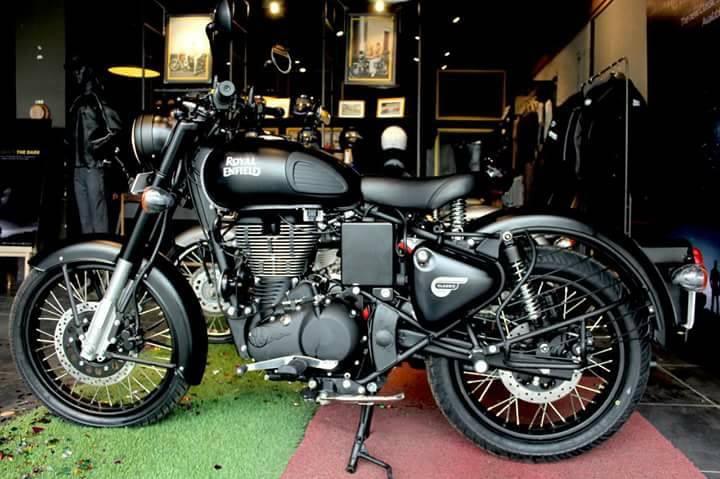 The sale of all new 15 editions will initiate from December 13 based on a first-come-first-serve basis. After registration for bikes, a unique code will be sent to the participant to make the mark of registration for the bike. On the sale duration, the registered participant will be paying a booking price of Rs.15,000 to restore one of the chosen bikes from the available 15 editions of Stealth Black Classic 500.
To shower glance of Royal Enfield Classic 500, the Stealth black edition will be the color on the bike with the inclusion of a rear disc brake on the cruiser bike. Royal Enfield always adores the Classic 500 for being one of the famous products from a host of bikes and offers the bike in many color options as well. The Stealth Black edition renders stellar styling appearance to the bike and looks distinct in revised surroundings.