Honda Racing Corporation (HRC) is a racing division of the Honda Motor Company introduced in 1982. The HRC division does the make over of the motorcycles and turn them into a high potential race weapon and take part in motorcycle races all over the globe. Now the HRC worked on the Honda mini-streetfighter MSX125SF, also known as the Honda Grom.
See Also: Honda Launches MSX125SF in Thailand; Priced at Rs 1.44 lac
For the HRC Trophy racing series, HRC department wants to work on a mini-bike, so the automaker selected Honda Grom and turn it into a racing weapon. The racing Grom was introduced publicly at the Osaka Motorcycle Show in Japan.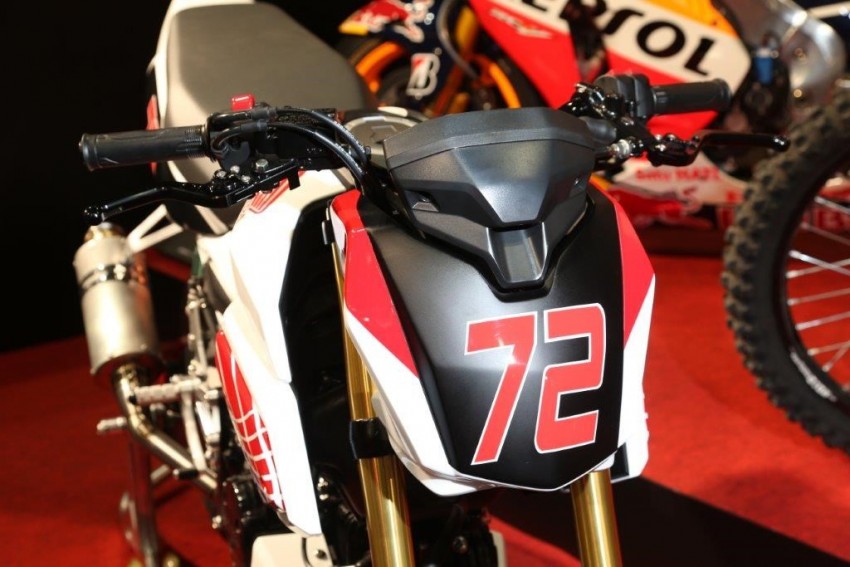 2016 Honda MSX125SF or Grom gets the propelling power from the four-stroke, single-cylinder 124cc motor which has been completely reworked by HRC division and has been tuned to participate in racing competition. Apart from the engine work, the mini-street bike also got two-stage fuel mapping, a pit lane speed limiter, quick shifter, and an all-new exhaust system to give a complete different form. HRC will sold the MSX125SF as a complete racing bikes for the customers, who will take part in HRC Trophy in Japan. Price must be higher as per the quality of work done and components used by the HRC, increases the cost of the motorcycle.
Read Also: Is 160cc, Naked Honda Streetfighter Under Production?
HRC has 23 service shops at different locations in Japan and seven other sites are available in other countries. These shops offers complete support for user from the supply of kit parts to any troubleshooting and it also offers advice on machine settings. The service shops provides a valuable interface for the HRC to know the expectations of the users, fans etc.