Two new e-scooters from Coimbatore-based EV start-up, Ampere Vehicles has been introduced in the electric vehicles segment- the future of mobility. The base variant that is entitled as Ampere V48 is priced at INR 38,000 whereas the Reo Li-Ion that is a top-spec trim of the scooter is on sale at INR 46,000 (ex-showroom, India). The scooters don't attract any registration charges as they are meant to run at the claimed maximum speed of 25Kmph. Besides, a lithium-ion battery pack charger was also launched by the manufacturer alongside these e-scooters.
As of now, the company is working on different projects. The electric motors, battery controllers, chargers for scooters powered by the lithium-ion battery are underdevelopment. The chargers for lead-acid battery scooters have already been provided at the reasonable price in May 2017.
The propelling of e-scooters will be handled by a 250W brushless DC motor powered by a 48V lithium-ion battery pack. It makes the e-scooter travel the distance range of 65-70km per charge. The battery took 4-5 hours for a full charge.
Priced at INR 3,000, the new Li-ion charger was unveiled by the president of India, Mr Ram Nath Kovind at an event organized by the Technology Development Board on the occasion of National Technology Day (May 11). The charger offers two-stage charging profile. Also, it can be adjusted for batteries manufactured by different companies in terms of voltage and current level. Furthermore, the microcontroller-based control and monitoring system a lot of facilities such as active battery reverse-polarity protection, over-temperature cut-off and output short-circuit protection.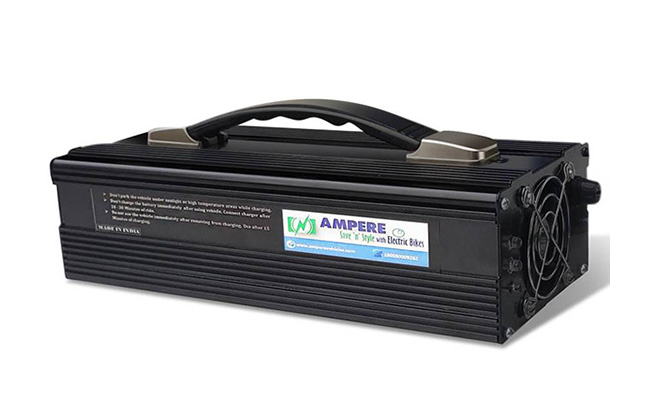 The Li-ion charger can charge up batteries with capacities 48V, 20Ah or 24Ah in 4-5 hours. It provides input voltage in the range of 185Vac to 265Vac and works properly in 0 to 50 deg C temperature. Furthermore, the charger safeguards against the input and output overvoltage.
Sooner, the scooter will be available at the brand's dealerships across the county. As of now, the company has a dealership network of 150 outlets with Tier-2, -3 and -4 towns as the major target.
Check out: New Electric Scooters in India 2018
The first product from Ampere Vehicles was launched in 2008 and the company accounts for 35,000 scooters as it total sales since now. These new e-scooters are the first homegrown lithium-ion scooters which comprise components such as the electric motor, battery controller and the charger as well, developed at the brand's R&D centre in Coimbatore. The used battery packs are being sourced from Taiwan and China.