To induce the government Initiative 'Make in India', a Bangalore-based start up company-Ather Energy, earlier in February this year, exhibits its unique electric scooter labelled as Ather S340. The company was started by the two IIT graduates Tarun Mehta & Swapnil Jain in 2013. The S340 is being claimed as India's first electric scooter which has been brought up by the idea of two IIT graduates-Mr.Tarun Mehta and Swapnil Jain-owner of the Ather Energy, established in 2013. With the financial support of 81 crores granted by Tiger Global and the founders of the e-commerce giant flipkart, company established manufacturing unit in Bangalore. The production version of the S340 may rolled out by the end of this year.
Powered by an IP67-rated Lithium Ion battery, the Ather S340 upholds the run up to 60km on a single charge and have life limit of 50,000 km. The precise and performance battery can be recharged up to 80% power within the short duration of Just 50 minutes through any 5 Ampere socket.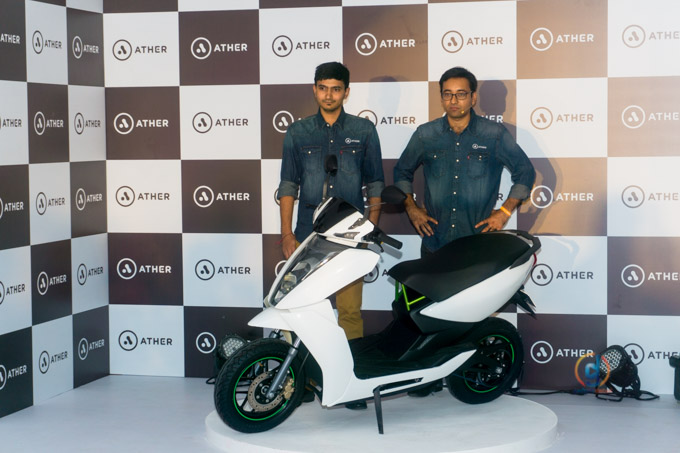 Created by Mr. Arun Vinayak, Chief Product Officer at Ather Energy, The S340 is a unique product brought up in the three years of time from scratch to the current form. Optically, The smart and stylish S340 delivers chunk of features for rider's ease. The 7-inch info-rich digital touch-screen with navigation facility, riding modes, customized profile, Linux-based platform, vehicle chasing and reverse mechanism. Some other additional features includes theft detection, auto-indicators and remote supervision of charging on mobile app.
Prior, the Ather Energy officials stated that one can get a chance to test ride at the experience centre in Bangalore and after sales service at the dealership. Altogether, the online retail facility and doorstep delivery will also be offered later. Nothing more has been disclosed about prices, colours and variants of the S340 is revealed by the officials.