Well, here comes the unexpected moment. The most anticipated sports motorcycle from the Bajaj Auto Ltd. was spied during its testing. Another spy shot has come-up of the Bajaj Pulsar 200SS and this time it was enjoying riding between the beautiful valleys and mountains at Leh. But this couldn't be more enjoyable as the motorcycle got stuck in the middle of the road. The rider was testing the all new Bajaj Pulsar 200SS, which is completely inspired by the Bajaj Pulsar 400SS, in the Barlacha La route, which connects to Leh.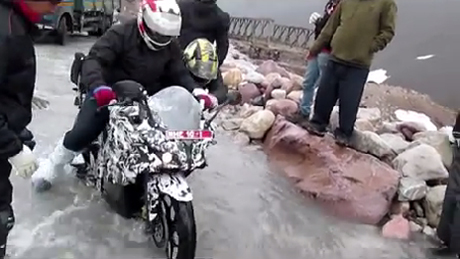 Last month, the firm has showcased the most awaited Pulsar 200SS in a dealership preview, which is located in Turkey. The fully-faired sports motorcycle was doing donuts in the dealership podium after getting showcased. A video has been released showcasing the camouflaged fully-faired sports motorcycle, while it was being tested in the middle of the rocky roads of Leh. And, after reaching a particular distant the rider and motorcycle, both got stuck because of the flowing water all across the road. Now, the first question arises in the mind is that the spied sports motorcycle is the Pulsar 200SS or Pulsar 400SS? As, both the sports motorcycles shares similar design and features and is also preparing to arrive soon in the Indian market.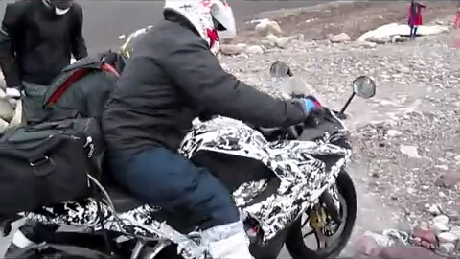 However, the released spied video doesn't help much, but still we are able to have a brief look of the Bajaj Pulsar 200SS/400SS. Technically the Pulsar 200SS is powered by a single-cylinder, liquid-cooled engine having an engine displacement of 199.5cc. The motor is coupled to a 6-speed transmission and is able to belt out a total power of 23.18 BHP @ 9500 revs and a peak torque of 18.3 Nm @ 8000 RPM. The fully-faired sports motorcycle will be making its appearance in the Indian market by the coming year, 2015. And, above all the Bajaj Pulsar 200SS is expected to carry a price tag in between Rs 1.30 lacs to Rs 1.40 Lacs.