During the Gaikindo Indonesia International Motor Show 2018 (GIIAS), the Benelli Motobi 200 Evo cruiser was showcased. The small displacement cruiser will attract the growing touring customers who wish to purchase a bike in this budget. The made in China Benelli 200 cc cruiser comes fitted with required cruiser style cues, comfortable saddle, simple fuel tank, long wheelbase, a low slung stance and high-placed handlebar. The alloy wheels and black theme considering hardware would engage the young generation.
A traditional fuel fill cap, a single-pod instrument console, circular taillight and headlamp, and other cost-effective elements. Hence, you will find everything usual nothing extraordinary about the aesthetics of the Motobi but it will make the eyes pleasing when it comes to looks. To make it cost-effective, the bike comes with timely experimented suspension system including a telescopic fork to the front and shock absorbers connected with the gas-charging system at the rear end. Coming to the brake pairing, it takes 240 mm disc at the rear and 280 mm at front. ABS is not included yet in the equipment list. A tall handlebar, low seat height, and forward placed foot-pegs make the riding position quite comfortable which is appreciated by the onlookers.
Read also: 135-200cc Single-Cylinder Benelli Bikes Under Development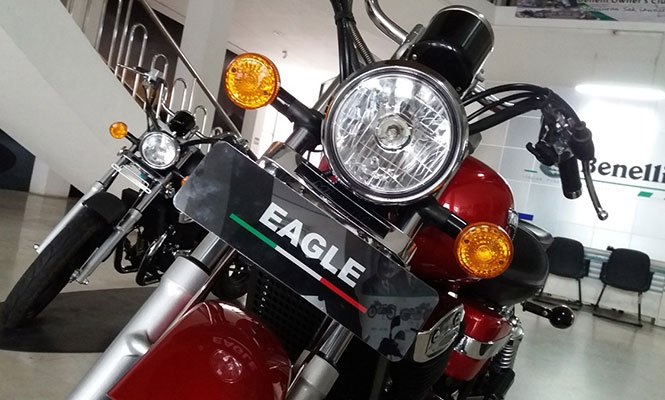 The Benelli 200 cc cruiser takes power from a 197 cc single-cylinder powertrain along with oil cooling system. Taking inspiration from Harley Davidson, Benelli didn't want to shower spotlight on the rated power of the engine although revealed the torque output figure generating 13.9 Nm at 6,000 rpm. A transmission is a 5-speed unit. Benelli updated version in the country comprises 12 new bike launches by 2019 along with attention on small and medium displacement bikes when it comes to distinguishing body styles. The Motobi 200 Evo model is not fixed for the India launch but provided the Bajaj Avenger 220's fame, the compact Benelli cruiser will be the perfect fit in the market, considerably if Benelli takes an attractive price point like always.