BMW testified the impeccability of its upcoming new 8-Series four-door which is going to replace the 6 Series Gran Coupe and agglutinate the existing 4 Series counterpart in the lineup.
High-speed testing is being carried out at the snow covered grounds in Lapland, Finland. The aim of the test session is to optimize & revamp the car's driving dynamics on snow-covered surfaces and to uphold the replacement of BMW 6 Series Gran Coupe with the new BMW 8 Series.
The new BMW 8 Series Gran Coupe has been photographed while testing in the snow on a BMW test track in Lapland and the images reveals the extended body of the 8 Series coupe to furnish the four-door set up for a Gran Coupe variant. It has been anticipated that the 8 Series Gran Coupe will feature the alike engines as the two-door coupe has, along with a twin-turbo V8. The four-wheel drive should also come as a choice.
Read Also:- BMW 530i M Sport, Launch price in India; Rs 59.20 lakh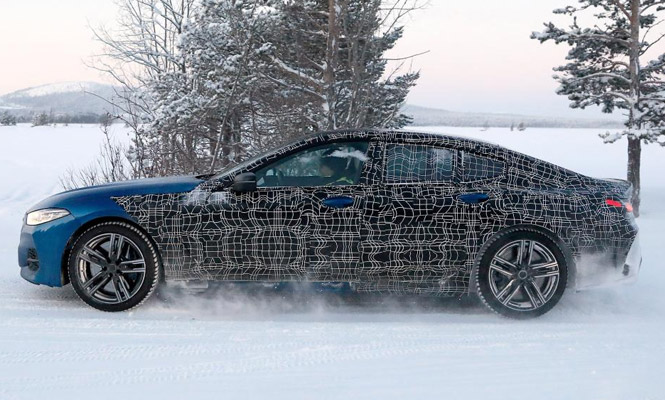 Read Also:- BMW 3-series GT Would be Soon out of The Scene
The 8 Series Gran Coupe is expected to be most alluring with a overabundance of luxury and advanced equipment such as large infotainment screen and BMW's 'Live Cockpit'. The inclusion of rear doors and an extended body hints the spacious luxurious cabin for passengers in the back and additionally, it implies that cabin of the Gran Coupe model of the 8 Series will be more practical and comfortable than the standard version which will offer a feeling of a premium lounge. The car is expected to gather the highest demands in terms of comfort & eminence.
The standard 8 Series seems to have ample boot space but we can not be too sure about it as we witnessed lesser space for luggage in 6 Series Gran Coupe as compare to the 5 Series on which it was designed.
The official release of the BMW 8 Series Gran Coupe will take place later this year and is anticipated to be priced around £90,000.