The Honda Motorcycles is currently having a busy schedule as the maker is silently testing the most suspecting upcoming touring motorcycle. As of now, we have hardly known about the touring prototype, but this time the spied pictures have given a lot of vindications of being a tourer motorcycle. Due to the camouflage over the CRF1000L, we wouldn't be able to have a clear look over the curves and cues of the motorcycle. Even though, it is pretty much similar from the teaser images of the Honda CRF 1000L Africa Twin, which was previously released by the Honda Motorcycles.
As per the spied images of the Honda CRF1000L Africa Twin, it shows up fully-camouflaged bodywork over the fuel tank, bikini fairing and headlight cowl. The motorcycle is equipped with panniers behind the pillion seat and over the side panels as well. From the spotted images, the motorcycle has acquired a pretty much long-sized visor. As being camouflaged, the fabrication of the headlamp and headlight cowl is not able to give clear curve indications. Being a tourer, the bike looks bigger and even the seating posture looks pretty much comfortable, purposely designed for long-rides.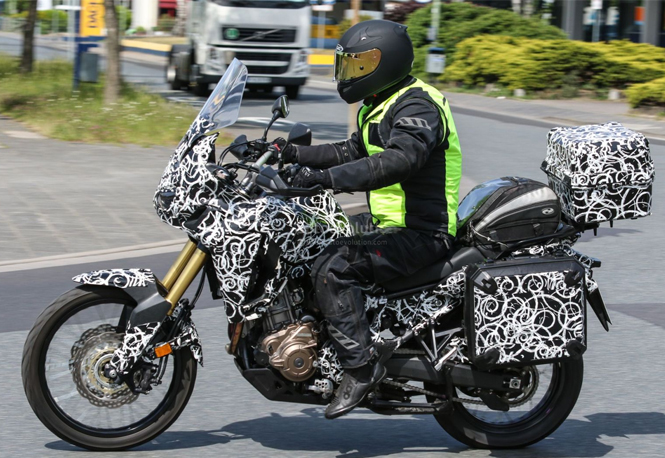 The upcoming Honda CRF 1000L Africa Twin will be coming equipped with Honda's patent Automatic Dual Clutch Transmission (DCT), but as an option. The spotted motorcycle caught on the camera misses the clutch lever, which gives an indication of the presence of the DCT. As per the sources, "The picture was taken at the end of the last week at the Honda's R&D centre in Germany, where the photographer originally was standing waiting for the "normal" Africa Twin. The photographer lost the bike during a hunt but said it seemed they were mainly high-speed-testing on the autobahn, which explains the fully-loaded bags and so on."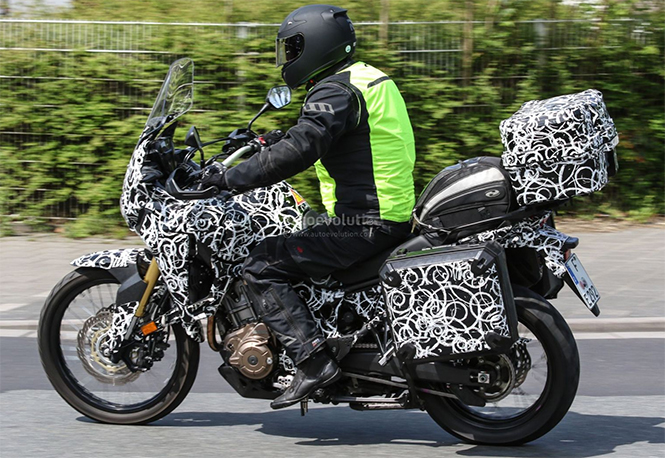 While its testing in Germany with high-speed autobahn runs, it would be expected to be loaded with some advanced components, which will be making the touring an amazing experience.