As per the company reports, Ford is ready to unveil its third-generation Kuga SUV on April 2, 2019, which was scheduled to launch later this year. The new Kuga SUV, which is sold in the European market is rebadged as the Ford Escape in North America and sits just above the Ford Ecosport in the company's global line up.
Read Also:- Ford Figo Facelift 2019 Launched, Here all you need to know
A teaser video of this new Kuga SUV has been recently spotted on the Ford's official FB page. From the slight glimpse, the styling of the car looks inspired by the recently launched Focus. Earlier spied shots of this new SUV also indicate a wider dynamics and curvier shape. Inside the hood of the car, a Ford inspired dashtop-mounted touch infotainment system is expected similar to other latest models. The other similar features that might be present on the Kuga SUV include additional driver assistance technology and increased passenger space.
Although, the thing to note is that two seat configurations would be available with the new Kuga SUV. The regular variant would be a five-seater whereas the seven-seater variant would join the brand lineup later, which might be called as 'Grand Kuga' by the company.
Read Also:- Complete Details Revealed of Next-Gen Ford Figo Facelift 2019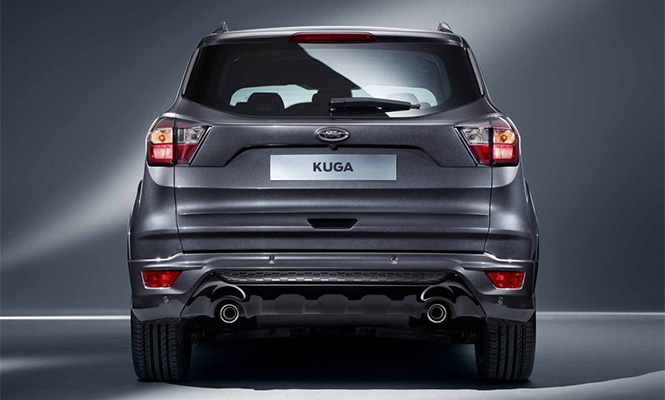 If we talk about performance and car mechanics, then the new Kuga SUV comes with four different engine options-two petrol and two diesel variant. The engine list includes Ford's entry-level 1-litre Ecoboost, 1.5-litre petrol, and a 1.5-litre & 2.0-litre diesel unit. Ford is also planning to integrate some form of electrification across all the models of Kuga, rather than a single hybrid variant. Although, a plug-in hybrid trim is already confirmed from the company sources. Apart from this, a conventional petrol-electric option is also expected to be offered by Ford in certain markets.
Ford is expected to launch another all-new SUV alongside Kuga, which is rumoured to be named as Ford Puma and will firmly sit below the Ford Ecosport and the Kuga. Across Europe, Ford sold close to 151,000 units of Kuga in 2017 whereas the sales figure in 2018 were curtailed a bit in comparison to 2017.
In the Indian market, Ford is recently engaged in co-developing an all-new SUV for Mahindra. This new car model share is largely inspired by the next-gen Mahindra XUV500 and will be built on the same line at the Mahindra Chakan plant.