For the second part of the FAME (Faster Adoption and Manufacturing of (Hybrid &) Electric Vehicles), the government is thinking of increasing the funds by 6 times. This will also include the investment done in five years of about Rs 5,500 crores which will give subsidies to the two, three and four wheeler EVs which will bring forward the environment-friendly vehicles and will also decrease the pollution.
The government accepted Rs 795 crores under FAME (Faster Adoption and Manufacturing of (Hybrid &) Electric Vehicles)-I which later was increased to Rs 895 crores. The main motive was to bring the EVs in demand and the infrastructure of EV homologation facilities is at Automotive Research Association of India (ARAI) and other centres. This will help in bringing up many R&D (Research and Development) projects and controls the launch of the new pilot projects which involves the launch of 450 EVs (Electric Vehicles) in the public transportation system in nine cities.
Read Also:- Leaps & Bounds in 2018 Sales Made Luxury Car Makers Feel The Heat
Dr Asha Ram Sihag, Secretary, Department of Heavy Industry, Ministry of Heavy Industries and Public Enterprises said on the inauguration of the SIAT (Symposium on International Automotive Technology) 2019 which was held in Pune that the FAME-II policy will help in increasing the public transportation, electric and shared mobilities of the EVs. "The government is looking to earmark Rs 5,500 crore which is under discussion with the Ministry of Finance currently. We expect that FAME II will kick-start after FAME I is phased out by the end of March 2019."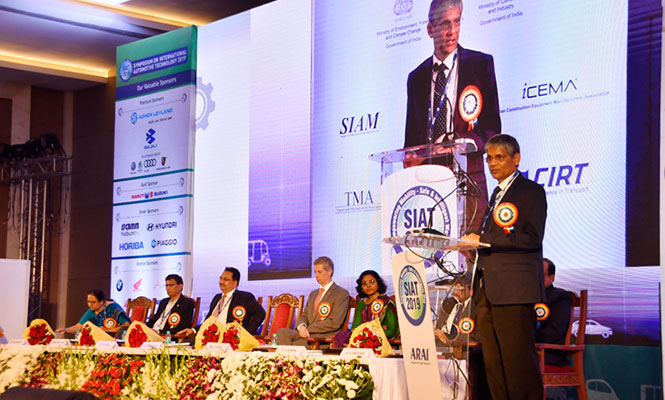 Dr Sihag also said that to set up EVs homologation facilities at GARC (Chennai), ARAI (Pune), and ICAT (Manesar) a huge amount has been invested even in the new battery-testing facility at NATRAX in Indore. All these facilities will come to existence in 2019. He added "The automotive industry in India should not face a shortage of advanced testing facilities once all the above-mentioned EV homologation units are functional in CY2019".
Read Also:- BS VI Emission Norms May Raise Price of Diesel Cars in 2020
300 NEW ELECTRIC VEHICLE CHARGING STATIONS
Dr Sihag also said that in India, 225 EV charging stations are run by the government via running pilot project. He said that government has given the approval of the 300 charging stations which will be set in cities and selected highways like Delhi-Agra-Jaipur and Mumbai-Pune. But still the timeline to execute this plan has not been disclosed yet.
For Indian automotive industry, the Automotive Mission Plan 2026 has set three main goals said Sihag. The goals are mentioned below-
1. By 2026, India must be the third largest global auto market in the world.
2. Gross domestic product (GDP) of India Auto Inc must be raised to 12 per cent which at present is 8 per cent.
3. To give direct and indirect employment to 65 million people.