Honda Motorcycle And Scooter India (HMSI) launched the Cliq in the state of Tamilnadu in India. It has been introduced at the price sticker of INR 44,524. After brand's expansion in southern states of Kerala, Karnataka, and Telangana, the Honda has become most selling two-wheeler brand in Tamil Nadu, as sources suggest. Other than this, the company is on top position in terms of OEM fitment in the 100-110cc segment.
Featured with the special block pattern tyre and deep grooves, the Honda Cliq offers outstanding grip and control over patchy roads and in anytime kind of weather conditions. Altogether, they are claimed as a durable fitment with a long life. Powering for the off-beat scooter comes from a 110cc Honda BS-IV HET (Honda Eco Technology) engine. The motor is capable of generating the peak power of 5.91 Kw.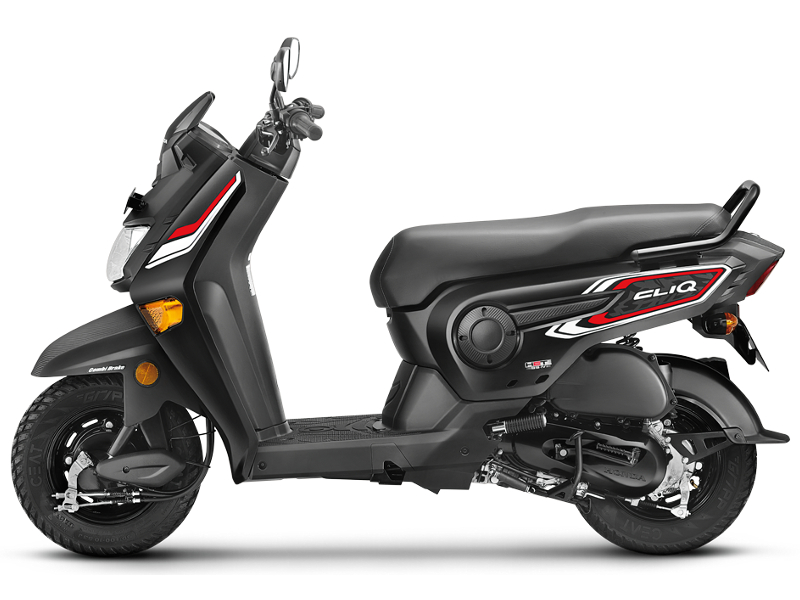 The Cliq has a kerb weight of only 102kgs and comes equipped with Honda's Combi Brake System (CBS) with Equalizer technology. The Equalizer helps in stopping force distribution proportionally, to both the front and rear wheel just by the left lever mechanism. Consequently, it reduces the braking distance and improves balancing. The list of offered features on the Cliq includes charging socket, tubeless tyres, maintenance free battery and viscous air filter.
Read Also: Honda Goldwing to receive updates for 2018 Model Year
The manufacturing of the Honda Cliq is being handled by the brand's facility in Rajasthan. It is Honda's second manufacturing unit. Following the launch in the states of Rajasthan in June and Maharashtra in July, the model is now on sale across Tamil Nadu. Launched in two variants- the Standard and the graphics variant, the scooter is available in four colour options. These are Patriotic Red with White, Black, Moroccan Blue with White, and Orcus Grey. A host of optional accessories are also on board for the customers such as front screen, floor cover, box center, cap cover and rear grip.