The 2019 Santa Fe is all set to introduce fingerprint identification for four wheels. Touted as the world's first smart fingerprint technology, Santa Fe owners can now unlock as well as start the SUV using their fingertips alone. However, for starters, Hyundai will introduce the fingerprint technology in SUV for selected markets only. The South Korean Automaker will focus on a global launch of the security feature post the first quarter of 2019.
Fingerprint sensors placed on the driver door.
A driver can unlock by placing the finger on the sensor.
The sensor sends verified fingerprint information in encrypted form to the controller unit on the inside. Other than the door handle, a fingerprint sensor is placed on the ignition system too. It enables drivers to start the car with a fingertip.
Read Also:- Hyundai Cars Becoming Costly From Jan 2019: Checkout Price Difference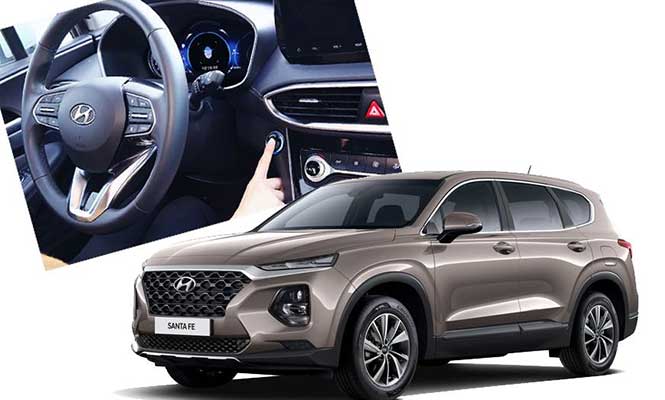 Other Key Highlights of the Breakthrough Technology Include:
Customized Driving Environment: From seating positions to side-view mirror angles, the Santa Fe takes care of all driver needs. It supports multiple driver profiles and auto sets driving seating positions, connected car features, and side-view mirror angles as per the particular match feed.
High Security: Existing Fingerprint sensors are susceptible to forgeries. To overcome this, Hyundai has used capacitance recognition for sensors in Santa Fe. The probability of misrecognizing is as low as 1 in 50,000. This makes it about five times more secure than conventional car keys as well as the current line of smart keys. It also offers full-proof security against fake fingerprints. It does this by matching differentials in the electricity level on and around the fingertip.
Incremental Accuracy: Last but not least, the fingerprint sensors some powered with 'dynamic update' system. This means that the sensors keep improving their accuracy levels using real-time learning from fingerprint data.
Read Also:- TATA Will Continue To Bring Upgraded Jaguar Land Rover Cars
The Road Ahead
The technology is just the first step towards a more inclusive driver experience. As Hyundai further improves on the technology it will try to embed other parameters like temperature control, steering wheel position etc in line with the preferences set by the specific driver.