In its first phase of opening Jawa dealerships, the Classic Legends has inaugurated the first two showrooms in the city of Pune at Baner and Chinchwad area of the city. The top honchos of the Classic Legends Boman Irani, Anupam Thareja, and executives from Pune-based real estate firm, NSG Group, to which the showroom belongs, were also there at the inauguration event.
There will be 100 dealerships in the first phase of setting up dealerships across the country in the coming three months. The metro, tier 2 and tier 3 cities fans will be availed with the availability of newly launched Jawa Standard and Forty Two. The pre-bookings and the test rides for the bikes have been commenced at mentioned dealerships in Pune. where the deliveries are expected to take place in full swing during the first quarter of 2019.
Read More: Chennai Poster Hint: Jawa Dealership to open adjacent to RE Dealerships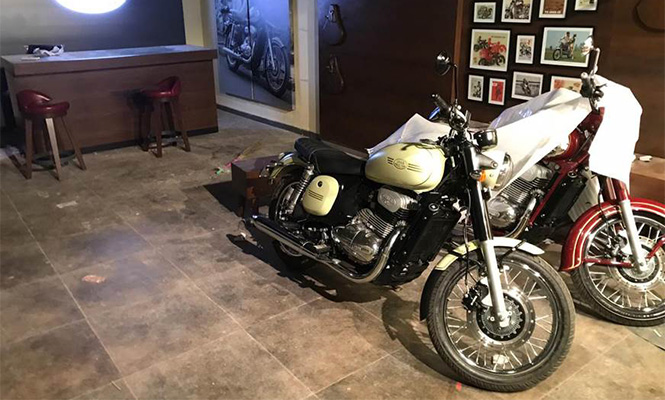 Additionally, both the bikes launched by the resurrected Iconic motorcycle brand Jawa in India during last month has also been exhibited at the Autocar show 2018 in Mumbai, on past Saturday.
The dealerships which are designed in-line with the modern-classic theme that the Jawa bikes have in its DNA will offer customers' bikes like the Jawa and Jawa Forty Two from the product folio selected for the Indian markets, at the respective pricing of INR 1.65 lakhs and INR 1.56 lakhs (ex-showroom, Pune). While the bobber-styled Perak is likely to join younger sibling during the second half of 2019 with a price sticker tagged with the amount of INR 1.89 lakh (ex-showroom Delhi).
Under the large fuel tank, the motorcycle will keep a revised, more powerful 334cc motor as compared to a 293cc, liquid-cooled, DOHC motor there for powering the Jawa and the Jawa Forty Two.