Kawasaki has revealed some of its new motorcycles for the 2016 line-up at the AIMExpo that includes Ninja ZX-10R, Matrix Camo Grey Edition of the Workhorse KLR650, Kawasaki Ninja ZX-14R ABS SE, Kawasaki Z800 with ABS and Kawasaki Vulcan S Café ABS. All the 2016 models have received significant updates to look more appealing than the current models.
Moreover, the 2016 ZX-10R comes featured with a rectified motor, new advanced electronics package, new instrument cluster and much more. Cosmetically, the ZX-10R received a new design from head to tail that include front fairing and new rear cowl which is wider than before. It also gets new LED tail light and new license plate holder.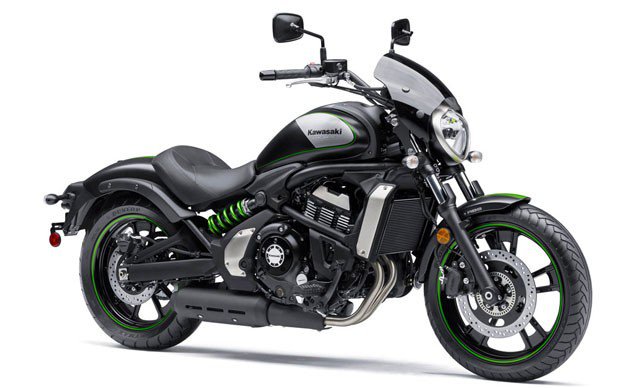 Furthermore, the next one is ZX-14R ABS SE which features new Brembo Brakes and stainless steel lines along with a new LED dash. The new 2016 Kawasaki ZX-14R comes featured with a new instrument console featuring high-visibility dials and LCD displays.
The Vulcan S ABS Café has also renovated with some cosmetic changes that consist of new three-tone paint scheme on the fuel tank and a dark-tinted windscreen. In addition to the cosmetic updates, the manufacturer has not made any changes in its powertrain as the motorcycle is featured same motor configuration as the standard version Vulcan S ABS. In addition to the Vulcan S ABS Café, Kawasaki announced a Special Edition Vulcan S with a two-tone Metallic Imperial Blue and Metallic Spark Black color with matching blue striping on the wheels. The Special Edition with ABS model has been priced at $7,399.