The most complemented and awaited motorcycles from KTM are almost here. The launching event of both the motorcycles is going to start very soon. Everyone is readying to watch their most favored and dreamed motorcycles live. The faired cousin brothers of the Duke Series, KTM RC 390 and RC 200 will be coming live in some hours. The manufacturer had started a countdown video on yesterday on Youtube, which was showing the countdown for the beginning of the launching event of both these motorcycles. Now, the countdown has come down to an end and its just showing that the launching event of both these motorcycles will be "Starting Soon".
Fingers crossed!! Let's wait for something Boom…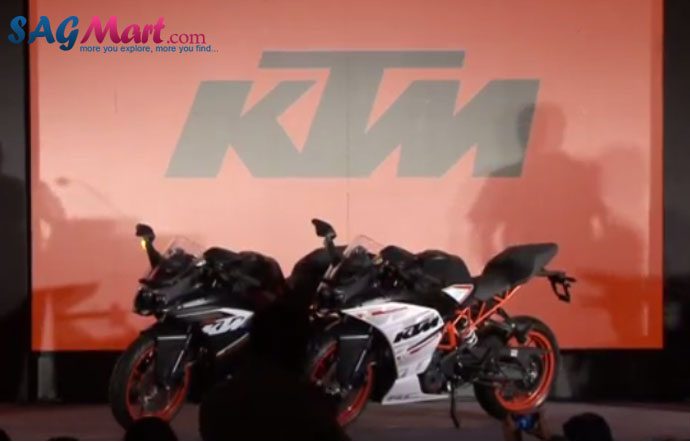 Here come the faired version motorcycles from the KTM!! The KTM RC 390 and RC 200 has successfully launched in India. Both the motorcycles were officially showcased at the launching event of KTM, which is going on in Hyatt Regency, Pune. Finally, the day has come when we got lucky enough to have a look and can also try our hands on our dreamed motorcycle. The most anticipated faired cousin sibling of Duke Series; which also does exist in India, has finally touched the Indian shores. For so long, the RC Series brothers have been going through numerous testing such as riding quality, motorcycles performance, rider's posture and many more. Both the motorcycles have also been spied various times. The KTM RC 390 will definitely be able to compete with other 350-400cc segment and the KTM RC 200 will take part in the battle of 200cc segment.
The launching event is being addressed by KTM's CEO Mr. Stefan Pierer. The company had revealed overall specifications of both the motorcycles. Along with that, they also disclosed the Ex-Showroom price of both the motorcycles, KTM RC 390 is priced at Rs 2.05 Lakh and KTM RC 200 is priced at Rs 1.60 Lakh (Ex-Showroom Delhi). On the safety front, the ABS is standard in the KTM RC 390, while RC 200 is equipped with disc brakes at both front and rear.