Maruti Suzuki recently tested its 2018 updated lineup with the new Indian crash test norms which are going to affect in the country for all cars by October 1, 2019. Out of 15 models in Indian lineup, the nine models which got passed under the new crash test norms were the Ignis, Celerio, Baleno, Vitara Brezza, Ciaz and S-Cross. While, the remaining 6 models which got failed in complying with the new norms were Omni, Gypsy, Eeco, WagonR and Alto. Later in future, these models will be eliminated from the lineup or will be updated to meet the safety standards.
The Alto and WagonR models from the hatchback segment are under works for the new version. While, the models which are base of the brand like the Omni, Eeco and Gypsy, there is no news for their updation. It is anticipated that the new Suzuki Jimny could replace the Gypsy from the lineup. However, there are no official words from the bikemaker about the new Jimny.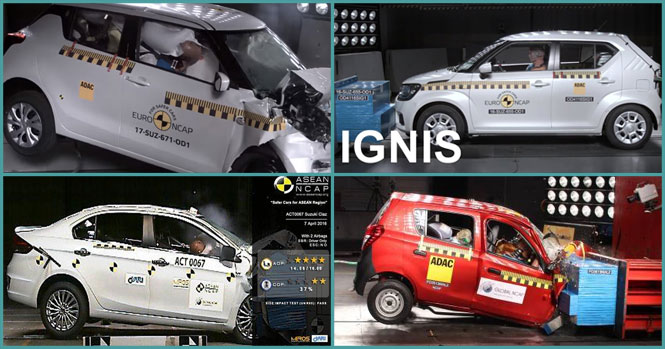 The new crash test norms include the test for full frontal, offset front and side impact protection. In order to bring Indian vehicles under the International safety standards, the crash test norms were introduced on October 1, 2017. Mind you, the Maruti Suzuki has already developed its own crash test facility at the R&D centre in Rohtak, Haryana. The company brought in all the underdevelopment model for around 40 crash test.
Read Also: 5 Suzuki Connect Features That Make Nexa Cars 'Smart'
Other than this, the Indian cars undergo safety tests conducted by a leading organisation such as Global NCAP*, Euro NCAP or ASEAN NCAP. A very few models managed to score five-star ratings in those tests, most of the models get single or even zero stars. The emergence of these new crash test norms will definitely help in uplifting Indian cars safety standard.