At the recently passed 2018 Amerivespa Rally in Richmond, Virginia, USA, a series of three new special edition Vespa family scooters was rolled out in front of the audience. There were the Vespa Yacht, Primavera 50th Anniversary and Vespa Notte at the display. Let me introduce, the traits of these special edition models one by one.
The Yacht Club edition is a special featuring for the models like the Primavera(50cc and 150cc Options) and the GTS 300cc version. These models receive a white and navy blue colour option. The scooter gets that blue essence even on the rubber floorboard as well as on the seat as stitching in contrast with the white theme.
The Primavera 50th Anniversary edition is scooter's homage model in order to celebrate 50 years completion since its launch back in 1968. The brand's first ever largest 12-inch wheels and a 4.3-inch full-colour TFT instrument display for the Primavera S model are the major highlights of this special edition model. Both the 50cc and 150cc variants of the Primavera will be on sale for 50th Anniversary edition. On the other hand, the 50th Anniversary edition for Primavera S model will be provided for only the 150cc trim.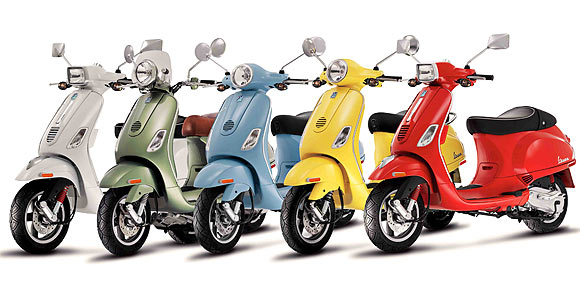 Last but not the least, The Vespa Notte series will be on offer for the monikers such as the Vespa Sprint (50cc and 150cc trims) and the Vespa GTS 300 Supermodels. The Vespa Notte series scooters witness blacked out treatment across the body including components like the chassis, rims and rearview mirrors as well. Whereas, the brand and model emblem on the front apron and rear fairing are of chrome.
Read also: Vespa to Remain Focused on Scooter Segment Till Near Future
Initially, the sale for these special edition Vespa scooters will commence in the countries like the UK and Canada. Indian emergence of these Vespa special edition models is not expected any time soon. There are chances that company could introduce the Vespa Notte sometime this year as it was showcased at the Auto Expo, early this year.