Officially revealed that Skoda will take responsibility to produce upcoming Volkswagen Group cars in the country. The programme has approved after September 2017 plan to do so. The VW group, led by Skoda will introduce India made midsize SUV by 2020. The new SUV will compete against Renault Captur, Hyundai Creta and Jeep Renegade(upcoming).
In the move with 'India 2.0' project, Skoda will focus on production work considering the sub-compact MQB – A0 platform along with more attention to the India-bound MQB A0-IN.
The declaration as well re-affirms that all future Skoda and VW models produced and designed in the country will be using the MQB platform of the VW group. Production of the upcoming Skoda and VW models are under-construction and the company has also mentioned that the first model using a new MQB A0-IN platform will be launched by 2020.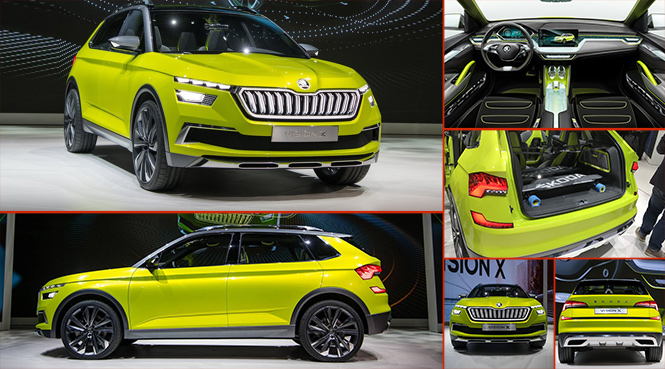 It is confirmed that the new model is expected to be the new SUV that will compete the Hyundai Creta in India. It takes some design updates from the Vision X SUV concept as revealed globally but will also be updated as per the dimensions and styling of Indian tastes. Both the cars will using the same body panels in order to make the cost under check but will establish a different brand identity in the Indian market.
Read Also: Volvo XC40 Electric Becomes Real
On the event, Bernhard Maier, CEO Skoda Auto mentioned, "we are starting now firstly with a Midsize SUV, which will be very competitive. Our MQB A0 platform is already ready for the new regulations; it's already coming with all the requirements and is already the most intelligent platform, which is available on a worldwide scale. And on this platform, we will be building cars made in India, developed in India and for our Indian customers."
The group also notified regarding turbocharged petrol engines or new-gen TSI than petrol and diesel engine options. The MEQ platform can also use CNG as an alternative fuel option.
Skoda is as well thinking to take over Chakan facility of Volkswagen and it will be updated along with new equipment with an addition of the new production chain to build cars based on the new MQB-A0-IN platform. The new MQB-A0-IN production unit will be manufactured in relation to the available production line which will continue producing the cars based on previous PQ25 platforms, like Polo, Ameo, Skoda Rapid, and Vento.