In the next year of March, Skoda will showcase the production version of its smallest SUV which was showcased in concept form earlier in 2018 as Skoda Vision X SUV concept. In the brand's global line-up, the model will be under the Skoda Kodiaq and the Karoq.
The final version of the SUV will be a trimmed down version of the already ongoing models of Skoda still taking some design language from the concept version.
Read Also - Isuzu Launches 4x2 and 4x4 variants of the next-gen MU-X SUV
VW Group's MQB A0 platform will be borrowed by Skoda just for its smallest SUV, which means that it will be sharing its base with the VW T-Cross SUV (global disclose on October 25, 2018)- a derivative of the innovative MQB A0 architecture used on the Euro-Spec model. The Skoda derivatives will likely to come in two lengths, same as its VW counterpart. In order to release more legroom which will especially be for the second-row passengers, the wheelbase will be slightly longer version for emerging markets like China and India i.e. 2,651mm while the Euro-spec will get a wheelbase of 2,645mm, which is more sought after in these markets.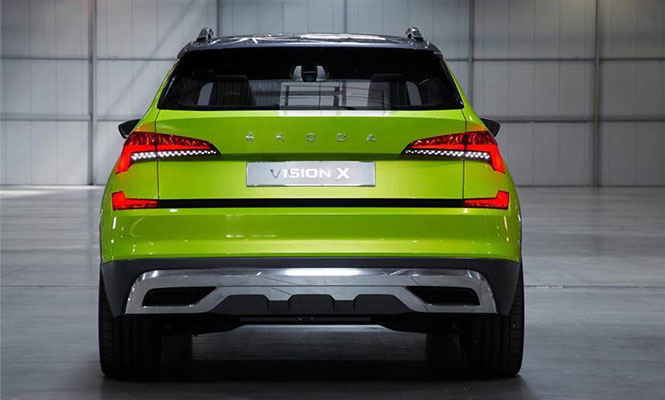 Read Also - 4 Cylinder Turbocharged Porsche Macan Facelift Scheduled For Feb 2019 Launch
Skoda will release this SUV in India in 2020, as a part of the India 2.0 strategy. There will be stiff competition between rivals like Nissan Kicks, Renault Captur, the Hyundai Creta and the Tata Harrier which means that Skoda will have to provide the model with premium interiors, a long feature list, and decent room for rear passengers and cargo as well.
Read Also - Skoda Launched 2018 Superb Sportline Silently
Along with many internal bits like the dashboard, seats and tech and with the platform, the Skoda will share a few body panels from the T-Cross. To give it an edge over competition, the Skoda may also come with higher variants- Skoda's virtual cockpit layout.
Next-gen Vento and Rapid will also be introduced in India after T-Cross-based SUV is launched.