Bajaj Pulsar has been caught over the tests many times in the last 6 months. The recent update to the same has came out with a spy shot aired over the web which described a yellow colored Bajaj Pulsar SS covered with yellow plastic sheet. The recognition of the bike was not possible for 200SS or 400SS, as the bike was snapped from the front. The glimpse of the bike revealed an ABS ring over the front disc brake.
The Pulsar 400SS showcased during the 2014 Delhi Auto Expo was having the ABS technology and this makes the decision that the bike spied here is the same one. But, the brand's name written over the tyres were singing another song. The Eurogrip tyres were found only in the Pulsar 200NS, which means the alleged bike is the 200cc model. The Pulsar 400SS will house the Metzeler rubbers as per Auto Expo Shots.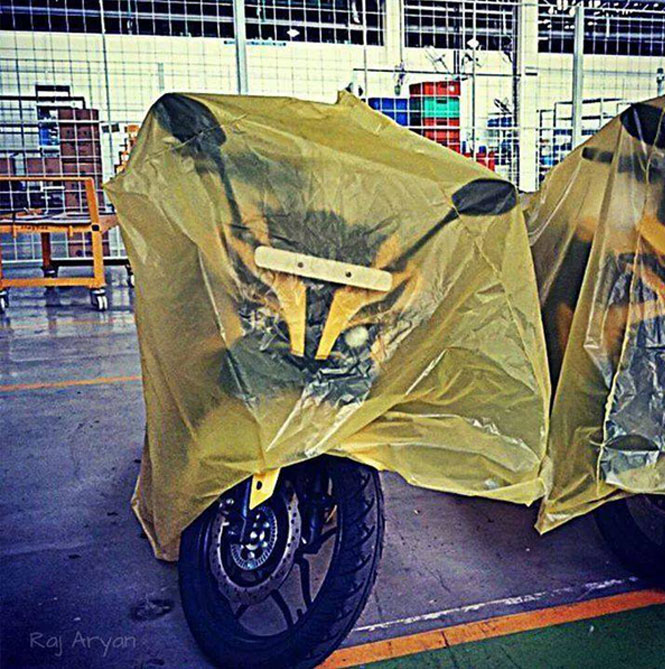 Image Courtesy: Raj Aryan
The controversies were always been chasing the Pulsar series. The concept behind the arrival of the SS series was estimated after the success report of 200NS came out. The bikes in the Pulsar lineup are so popular among the youth that the bike itself has become a brand. The Pulsar 200NS will be letting the 200SS to use its engine. This bike will be boasted with 199.5 cc single cylinder liquid cooled engine which churns out 23.18BHP of power at 9,500 RPM along with 18.3 Nm of torque at 8,000 RPM. It is bonded with carburetor and the 200SS may also receive the same with optional Fuel Injection.
The flagship machine will be powered by 375cc engine, but the power figures have been kept reserved for the future bombardment. A few days back, the bike was found stuck into the water while testing in Laddakh. The way of getting it out of the bog was quite embarrassing and funny at the same time. Let's hope for the best with the production ready model.