2019 Yamaha Aerox 155 has been launched in Thailand. It is available at the price sticker of 74,400 baht (INR 1.62 lakh approx) for ABS variant. Practically, it is the only version that fits the requirement for Indian market and launch in coming future. However, the Aerox 155 R variant which comes without the advanced safety of ABS priced at 67,400 baht (INR 1.46 lakh approx). However, it gets bits like painted alloy wheels and rear suspension with a gas-charged function which adds to its sportier appeal. While the features like the smart key function and start/stop system is exclusively provided with the ABS variant only and thus, the heavier price tag also suites for the Thai market.
Read More: Yamaha Aerox 155 Spotted In India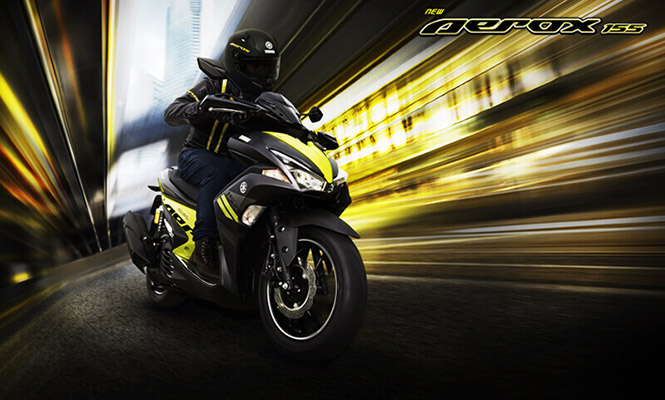 With a fuel tank capacity of 4.6-litres, the 2019 Yamaha Aerox 155 is a city-specific sport scooter powered by a R15 V3-derived engine. While the transmission managed by an automatic scooter. Yamaha is offering the three variants of the scooter in Thailand, depending upon the demand in the local market and taste of buyers for every added detail. As of now, ABS is not a compulsory feature in Thailand and the dual-channel ABS unit is provided as optional from most brands As compared to generated power output Aerox 155 is different from the R15 V3, which helps in supplying a bit more decent ride quality for the owners.
The company is offering a limited number of colour options for the scooter. Among them, the R variant which comes finished in neon on wheels and golden gas canisters is most attractive. If launched in India, the model will not share the commuter segment due to its premium pricing. In its segment, it will see the competition with the likes of Aprilia SR 150 scooter and Vespa 150cc series. Here, it is expected to carry the price tag similar to the current generation FZ (around INR 1 lakh) which would not make it a frugal offering in the scooter segment. The 2019 Yamaha Aerox 155 uses water cooling and fuel injection system.