The Action cameras manufactured till date have enlisted the name of Casio in gold. Distracting from the path, the selfie business has got the definition in Casio's language as well. The selfie camera range got another innovative product to smack down the superb products already established in the market. However, the brand has designed some products with mastering effect; they are trying their luck in the most dominating industry of the current times, which may grow high in the future. The Mirror Cam here is the $330 affair which somehow justifies the cost.
Action Look: Lights, Camera, ACTION; Casio Exilim EX-FR10 Action Cam
The Kawaii Selfie by Mirror Cam (EXILIM MR1) is bonded to a 14 megapixel 1/2.3-inch square pixel CMOS sensor with a small LED flash. The aperture provided to the camera is f/5 which is super slow. The front panel is a mirror alike reflecting thing for pure selfie feel and results. The software for the same can edit and images for betterments in the appearance by altering the color and similar things. The body shell of the snapper comes in white, pink and blue color options.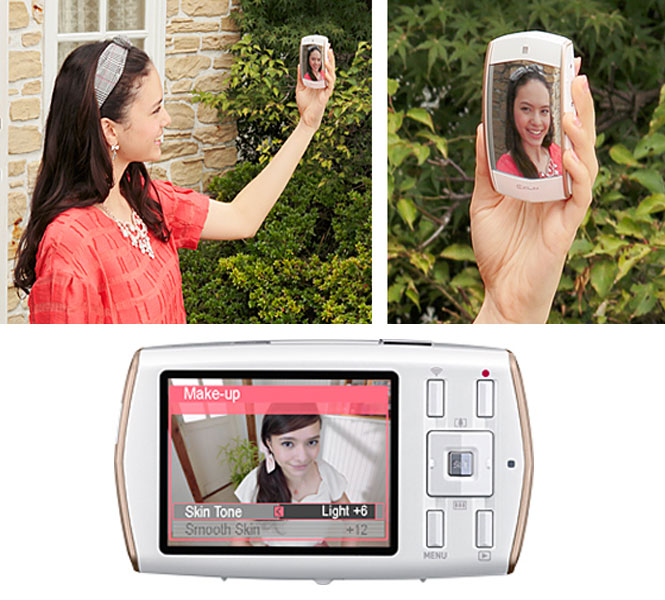 The 2.7 inch LCD is provided for viewing abilities. The basic features embedded into the camera include WIFI connectivity, video recording/playback and 700mAh battery. The backup from this battery can withstand for 35 minutes of full HD video recording and around 200 still images. The memory provided for the imaging will be made available via external cards; the inbuilt memory is 28MB.
Helmet Garnish: Track Your Road, Ride Your Track, Let your Helmet do it; Nuviz HUD [Video]
The WIFI tethering enabled with this gadget can stream the photographs and videos to the smartphone device. The design, color and appeal looks like made for the female audience. Despite including the great aspects concerning the modern era of photography, the imaging results are not so great to buy this gadget. However, the selfie lovers would definitely praise the device.