Toshiba, the Japanese company introducing its first Windows 10 two in one DynaPad after a prototype appeared at IFA 2015 last month. This 2-in-1 tablet is the lightest 12-inch in the world with 569 grams and thin at 6.6 mm.

DynaPad is featuring a Satin Gold color carbon body with the attachment of a keyboard to turn it into a laptop. Toshiba claims that its new device will compete its rival Microsoft, which already introduced Surface. It arrives with on screen scribbling and shipping with a Wacom Active Electrostatics Trupen.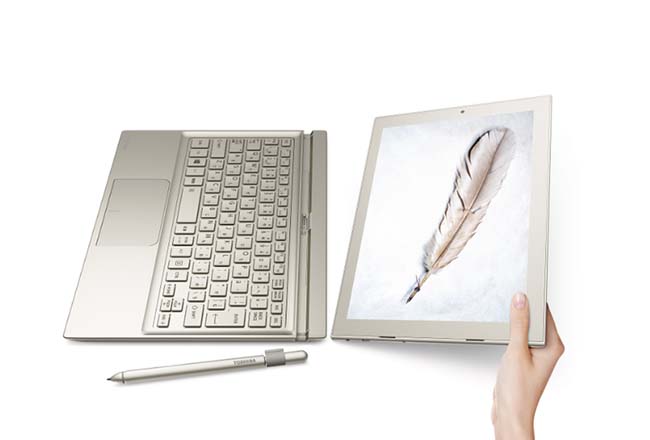 The Wacom stylus Trupen was designed to replicate the feeling of writing on paper with a real pen, and the device's sizes were chosen to resemble actual notebooks. Toshiba revealed that it is not only the two in one device with a pen, but also feel more natural than its competitors.

The device also integrates with the Microsoft Office applications, which makes it more convenient for editing. To optimize the pen's performance, it is double layered with advanced coating which is used to reduce the fingerprints and reflections for keeping high sensitivity.

DynaPad is having the resolution of 1920*1280 pixels with IPS display and is powered by 1.44GHz Atom processor and clubs 4GB of memory. This new Device is available to preorder in Japan, in the US and Europe it will be available early in 2016.

Till now, the exact information about the pricing of the device is not confirmed, but Toshiba says that before tax, it'll cost less than ¥130,000 (around $1,080) when it will be launched in Japan in December.