Sony seems all set to blossom its launch event in Barcelona. Speculations are said for the Xperia Z4 Tabletrelease on March 3. Yes, it's officially been confirmed that company is going to announce its next flagship at Mobile World Congress, trumping-up the rumours for its launch in summer.
The company has mistakenly posted an image of rumoured Xperia Z4 Tablet on its official Xperia Lounge app which has given us a chance to take a glimpse of the purported Sony flagship. However, that did remove by the officials instantly, but a screenshot of the same has taken by the Xperiablog.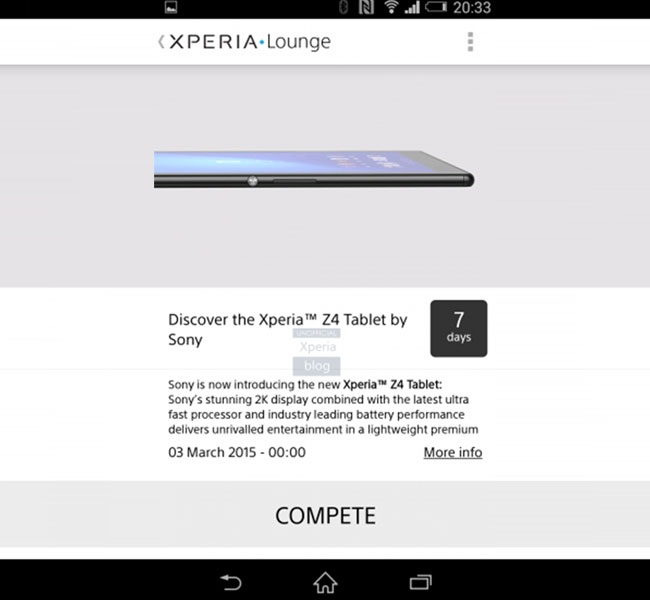 According to the spotted post, design of the device can also be seen with the scheduled date of launch. As per this leaked image, March 3rd has been assigned to the upcoming Sony flagship. That's the clear indication of The same also describes the 2K toting for the display of Xperia Z4 Tablet along with the 'ultra-fast processor' and 'leading battery performance'.
Thin profile of this device can easily be speculated and the content in the screenshot also hints the same by mentioning the term lightweight. However, the compact size has not been mentioned by the tech firm, but it is being expected by every tech geek that they should get the compact one in the Xperia tablet segment. Looking at the design, one can easily resemble this device with the Xperia Z3 Tablet Compact.
Read Also: List of Expected Devices to be Showcased at MWC 2015