Just days ahead of Mobile World Congress (MWC) 2018, Taiwanese giant Asus is expected to launch a new series of smartphone an MWc, Dubbed as Asus ZenFone 5. a couple of images showing what it could be the Asus ZenFone 5, the lineup is likely to include several models. The standard Zenfone 5 model is expected to featuring an iPhone X-like notch and is expected to debut alongside the Zenfone 5 Lite at the MWC conference that is scheduled for 27 February. The Taiwanese company already sent out invites for its press event that will happen just a couple of days after the widely expected Galaxy S9 and Galaxy S9+ launch.
The render shows the presence of a thin-bezel display on the upcoming ZenFone handset which sports a notch at the top. While the notch is similar to the pictures that shown in the iPhone X last Year, it is reported to include just a front-facing camera sensor, an earpiece, and one sensor module with an ambient and proximity sensors.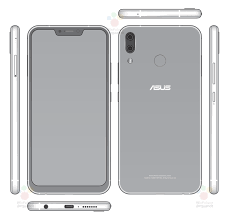 This means that you should not expect the anything close to a TrueDepth camera system, which was launched in September last year to enable facial identification features, including the Face ID on the latest iPhone model. Furthermore, the display panel is touted to have a Full-HD+ display with the resolution 1080 x 2160 pixels and 18:9 aspect ratio.
The ZenFone 5 is rumored to run Android 8.0 Oreo out of the box along with a USB Type-C port and 3.5mm headphone jack. On the back, the upcoming Zenfone 5 series handset is likely to feature a fingerprint sensor and a dual camera setup.
The Asus ZenFone 5 will be available in two variants, including a dual-SIM model. Both will be made out of glass and aluminum materials.
Twitter user Bernardo G da Silva has separately posted a live image of the ZenFone 5. The image purportedly shows how the handset would look in reality. Also, it shows some tweaks on the interface-level to make the space for the notch. For instance, in the leaked image, there is a battery icon on the top-right side, while the SIM position is available on the top-left side. Some recent reports claimed that Android P will come with design upliftments to support notches on the next-generation smartphones.