The first build of Windows 10 technical Preview for Phones has come out from shell to show its competency in real world. Windows Phone devices users were keenly waiting for this to happen and here it is - the first appearance of Windows 10 in phones. As this platform is designed keeping the universal apps feature in mind. Yes, the Redmond giant had decided to bring the same core platform for Smartphone, PC, and tablet. So, it's like you will find no difference while you are working on smartphone or PC.
The Preview is available on Windows Insider, simply download the app and experience the pre updates direct in your smartphone. Well, there is catch, not every Windows Phone 8.1 users can take the benefit of this technical preview. Only Lumia 630, Lumia 635, Lumia 636, Lumia 638, Lumia 730 or Lumia 830 users can install it. As for caution we inform you that it's an unfinished build, so go for it with caution.
Read Also: Get the Complete List of Windows 10 Improved and New Features
Joe Belfiore, VP of Microsoft's Operating Systems Group has detailed the features of Windows 10 for phones. You can see them in a video shown below:
Microsoft has also mentioned in its official blog that if you want to receive builds as OTA update, then one need to register their Windows Phone device on Windows Insider Program. This first build has some improved and new features, not the complete version is there to show you right now.
Read Also: Cortana will be Assisting on PC too in Windows 10
Elaborating the Features Inside the First technical Preview
Well, you can see the more advanced Action Center with three rows of Quick Actions. Currently, the Windows Phone 8.1 based devices have one row with four Quick Actions in count. The Interactive Notification will become more interactive with direct access of taking some action on apps like dismissing alarm. Speech-to-text feature also gets enhanced.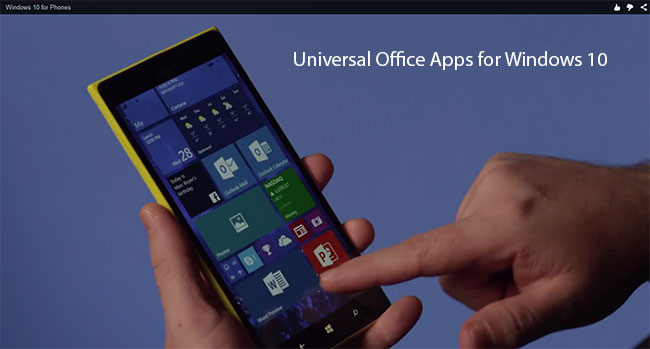 Universal apps approach will add more value to this platform as Photo App. Belfiore also provided the details regarding universal Office Apps. Windows 10 based smartphones will come with Word, Excel and PowerPoint apps which will be independent apps that will run on all Windows 10 based PC, tablet and smartphone.