The rumour mill is big enough for the successor of OnePlus One. Holding bunches of canards; the OnePlus Two has finally become ready to unwrap the shell of secrecy from itself. However, few earlier reports had suggested about the early 2015 launch of this product, but that didn't happen. Now, the latest report has surfaced on web which is suggesting about the release date of April 17.
A retailer has listed the handset with price tag and specs on its website while there is no information regarding its official launch. Even the company itself has not spoken on the same. But, the retailer is showing the option of 'Add to Cart', but we make you clear that the same retailer has tagged the handset as presale product. However, this is not the first time when the unannounced handset has been seen on an e-commerce store. One more retailer in past had listed the same device.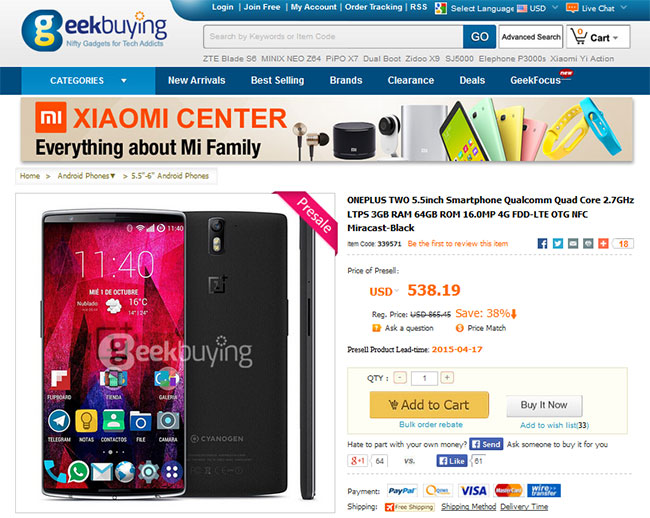 According to GeekBuying listing, the OnePlus Two will feature a 5.5-inch 1080p display and come equipped with Snapdragon 805 SoC which contradicts about the earlier rumour for Snapdragon 810SoC. It is also listed with the 16MP rear shooter which is improved one from its predecessor. The retailer has tagged the phone with US $538.19 as a presale amount. Other listed specifications include 3GB RAM, 64GB ROM, 3300mAh battery capacity. However, we can't trust on these details as OnePlus has not revealed any detail regarding its upcoming smartphone.
Read Also: Check the Specification of OnePlus One with Price
Release of this handset caught several times in rumours. Initially it was speculated for February launch, then talkd about the March. And now, the April 17 Launch is speculating for the launch. So, still we can't rely on this report as well.
Image and News Source: Techradar.com, GeekBuying