Both, sky and earth are enjoying the glitters of MWC 2015 and the glory of Barcelona seems ineffable to adorn in words. Samsung, hTC and Sony were on their full glory when showcasing their flagship products. Well, here we are discussing about the South Korean juggernaut's stunning smartphones Galaxy S6 and Galaxy S6 Edge. This time, people will get the opportunity of testing two flagships with one wit.
Both have same entrails, even the heart and substances are same. The only difference that cannot be repulsed is the design and we can vouch for it. Whether the Galaxy S6 has the ordinary display, the Galaxy S6 Edge has more beautiful aesthetic with edged displays that curved down to meet with the back panel.
Like two peas in a pod: Samsung Galaxy S6 & Galaxy S6 Edge
Both have same innards and same built material with varying skeletons. First off, Samsung Galaxy S6 and S6 Edge have been engineered so beautifully with metal and glass. This craftsmanship makes them luxurious and premium than its predecessor with metal frame and Gorilla Glass 4 on rear and front panel. These materials give both devices a premium touch which were absent in all previous S series models. So, we can say that a new era has been started in Samsung family to change its yore plastic ornament. The Samsung Galaxy S6 will come dipped in white black, gold, and blue colors while the Galaxy S6 Edge will give you the option of taste it in white, black, gold, and green colors.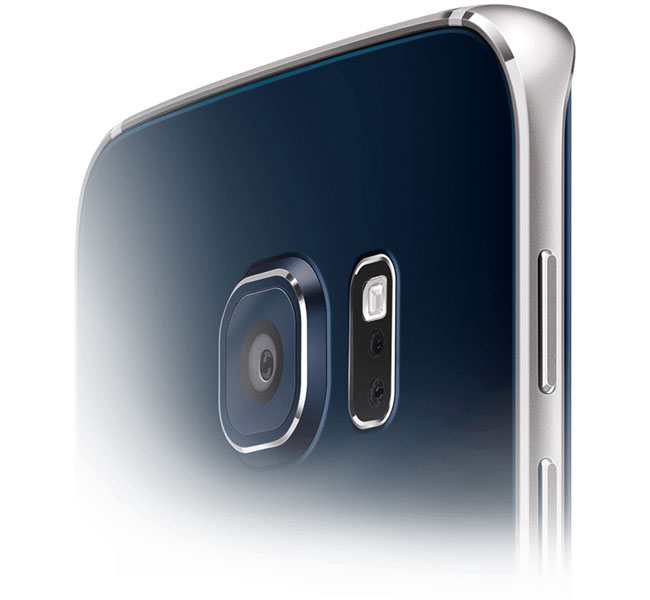 Now, move on to the innards scion of both handsets to cognize the similarity. The 5.1-inch QHD Super AMOLED displays, Samsung's in-house Exynos octa-core processor, 3GB RAM are killer to boast both flagships' capability. Other specs include LTE cat. 6 connectivity, Android 5.0.2 Lollipop OS with TouchWiz UI, 16-megapixel OIS rear camera with f/1.9 lens, 5-megapixel front snapper with 120 degree wide angle lens, and the option of 32GB, 64GB and 128GB inbuilt storage. Fingerprint scanner on home button and heart rate monitor on back panel are cutting-edge features in Samsung's Galaxy S flagships.
Both come incorporated with Qi and PMA wireless charging, company's own mobile payments program Samsung Pay (for transaction with the help of NFC or MFT (LoopPay) technology), and many other impressive features.
Curves and No Curves! Edged Displays
On one side, the company has manufactured the Galaxy S6 with ordinary design with a straight display covered in metal frame and glass back and front panel while the S6 Edge looks different. Same metal frame and glass panels for this device packed differently with curved displays on both edges. Both are expected to launch globally on April 10th and major US carriers and US Cellular are pledged to offer both flagships. They disappoint with no option for microSD card slot and non-removable battery though, but could be the great devices to operate. O prices for both have been decided yet. We could speculate that the S6 Edge would be pricier than the flat S6 device because of its premiumness.
News Source: Engadget.com, theverge.com