This year, we had welcomed the HTC One M8 as a flagship device of the Company. So, you are expecting the One M9 for the next year. If so, then a tweet by the famous tipster @Upleaks will make you surprise. If the words on the tweet are to be believed, then it could be possible that HTC may drop its old naming convention with new one. It is speculated that Taiwanese tech giant will remove the 'M' from its successor of One M8.
Upleaks tweeted, "OK, here's a "little" leak; Next HTC flagship is NOT the M9. They will not use simple codename like M* anymore." However, this post has not revealed what new pattern the Company will use for its upcoming flagship. On top of that, it is also expected that Hima could be the codename for this handset. Another post by the same tipster was suggested about a new device with this codename. It is said to launch in 2015.

Specs to explore the next HTC device
One more post by @Upleaks has also suggested few specifications of HTC Hima smartphone. If looking at the posted specs, we can easily consider this handset as a flagship device. As per the tweet, an octa-core 64-bit Snapdragon 810 processor (2.0Ghz for 4 cores and 1.5GHz for another 4 cores) will be used for powering this handset. Ditching the M9 from the name, the HTC Hima will get a 3GB RAM, 5-inch 1080p display, 2840mAh battery and VoLTE/CA/LTE Cat.6 network support.

Offering stunning pictures with staggering 20.7MP resolution camera, this alleged handset would give tough competition to Sony Xperia Z3. It will also receive the 13MP front camera or may follow the custom of its ancestors by offering 4MP Ultrapixel camera.
It is also speculated that Android 5.0 Lollipop will give this device a run with own Sense 7.0 UI. We can't predict that will HTC make any change in its design concept or not. But, looking at the perfect and well-designed body of One M7 and One M8, it could be possible that we will see the same texture in the successor.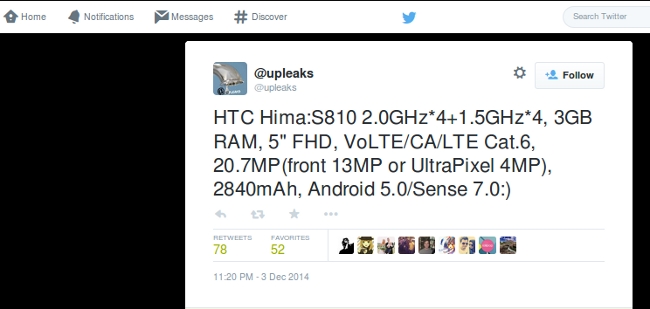 So, we have no idea what is cooking inside the mind of Taiwanese tech giant. We just wait for the Company's official announcement for its next year planning. It may bring the HTC One M9 as 2015 smartphone or may ditch the M with some new naming scheme.
Read Also: HTC One M9 Leaked Images and rumours for Release date