Finally, BMW has listened to its customer and has launched the Z4 in India. The BMW Z4 has been launched in two variants i.e. lower-end and higher-end namely sDrive20i M Sport and M40i respectively. The lower-spec sDrive20i M Sport is given a price tag of Rs 64.90 lakh while the higher-spec M40i costs Rs 78.90 lakh (ex-showroom, India).
Engine of Both the Variants of BMW Z4
The higher-spec M40i gets the power from the 3.0-litre, inline six-cylinder, turbo-petrol powertrain spawning 340hp of peak power and 500Nm of maximum torque. The lower-spec sDrive20i M Sport is powered by a 2.0-litre, four-cylinder, turbo-petrol powertrain that spawns 197hp of maximin power and 320Nm of peak torque. Both the powertrains are married to the 8-speed automatic gearbox that gives power to the rear wheels. The company claims that the M40i can accelerate 0-100kph at 6.6sec while the sDrive20i can attain the same in just 4.5sec.
Read Also:- Spy Shots of BMW 8 Series Gran Coupe Hints Additional Features
Exterior of Both the Variants of BMW Z4
The exterior of both the variants of the BMW X4 is same except the paint. The high-end M40i comes with standard metallic finishes which includes silver, black, blue, white, and red while the car is finished with optional blue and grey colors. The lower-end 20i M Sport is available with the same colors options as of the higher-end variant but also includes non-metallic finish.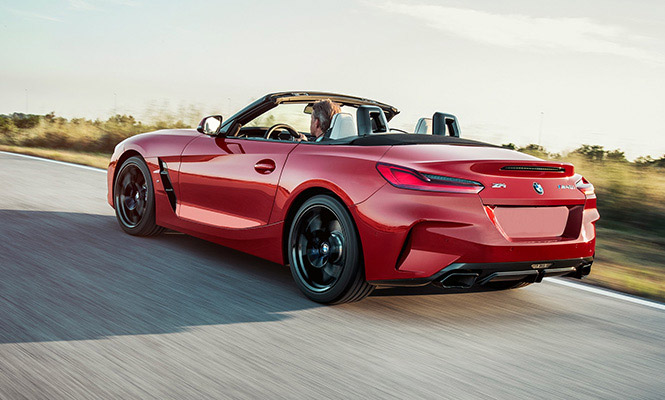 Interior of Both the Variants of BMW Z4
The interiors of both the variants is same but there are many options on the low-end sDrive20i M Sport variant like the M Sport interior package which is considered as the standard on the higher-end Z4 M40i. Both the variants includes the equipments like- front and rear parking display, a head-up display, a 12-speaker Harman Kardon system, wireless charging, and active cruise control as additionally optional. The latest and new iDrive infotainment software and the 10.25-inch digital instrument cluster of BMW are standard.
Read Also:- BMW Starts Affordable after Sales Service Program 'X1 Service Package'
Rivals
The BMW Z4 in India competes with the Porsche 718 Boxster that produces 300hp at costs 89.95 lakh. If compared, Porsche 718 Boxster is more expensive than the BMW and produces less power.