A Bangaluru based custom shop, Race Concepts has customised the Bajaj Dominar 400 for generating more power and torque. Post modifications, which includes revised engine head, tuned up ECU, instalment of free-flow exhaust and a free flow air filter, makes the bike produce 20% more power and torque.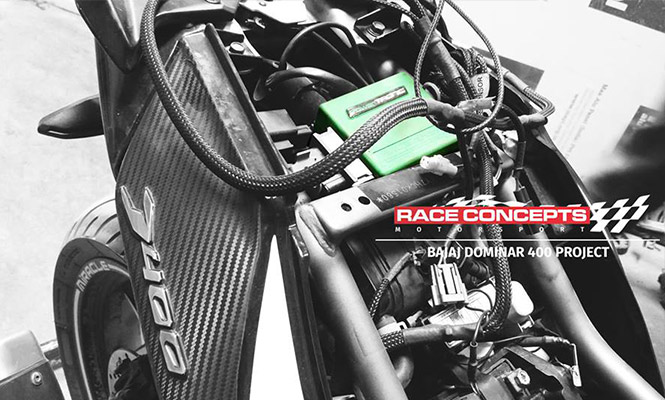 In the lieu of these changes and additions, the wheel horsepower of the custom Dominar 400 enhanced to 33hp. While on the stock Dominar this wheel horsepower figure is 27hp. On the other hand, the propelled torque value to the wheel is also increased to 32 Nm from 27Nm. If the power and torque are considered at the crank of the modified Dominar, the developed power and torque are expected over 40hp and 40Nm. Whilst, these figures for the standard Dominar are claimed at 34.5hp and 35Nm.
Read also: Top Five 125cc Scooters Achieving 90 KMPH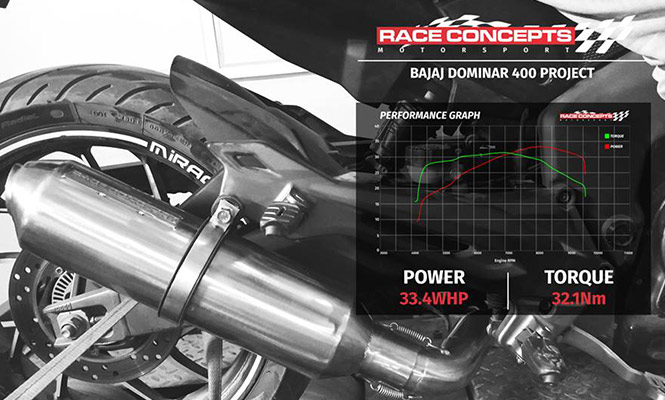 Moreover, let me remind you once again that the Bajaj has introduced the 2018 iteration of the Dominar 400 with minor tweaks at cosmetic front. With the introduction of new paint schemes, the colour choices have been expanded and now offers options such as new Rock Matte Black, Glacier Blue and Canyon Red. Mechanically, no changes are made on the motorcycle. The similar 373.3cc single-cylinder, liquid-cooled, fuel-injected motor will take care propelling duty. The engine is integration with a five-speed gearbox, spits out the peak power of 34.5 hp and 35 Nm torque.